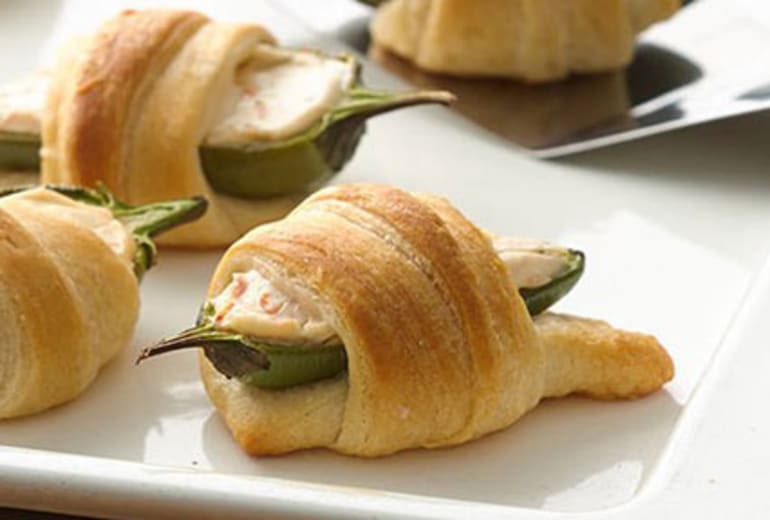 Easy Three-Ingredient Jalapeño Crescents
Ingredients
1 can (8 oz) Pillsbury™ refrigerated crescent dinner rolls
8 small jalapeño chiles
1 container (8 oz) garden vegetable cream cheese spread
Nutrition
Serving Size: 1 Serving
Calories 90 Calories from Fat 60, % Daily Value: Total Fat 7g 10% Saturated Fat 3 1/2g 17% Trans Fat 0g 0% Cholesterol 15mg 4% Sodium 180mg 8% Total Carbohydrate 7g 2% Dietary Fiber
0g 0% Sugars 0g 0% Protein 1g 1% % Daily Value*: Vitamin A 4% Vitamin C 8% Calcium 0% Iron 0%
Exchanges: 1/2 Starch; 0 Fruit; 0 Other Carbohydrate; 0 Skim Milk; 0 Low-Fat Milk; 0 Milk; 0 Vegetable; 0 Very Lean Meat; 0 Lean Meat; 0 High-Fat Meat; 1 1/2 Fat; Carbohydrate Choice 1/2
*Percent Daily Values are based on a 2,000 calorie diet.
Preparation
Heat oven to 375°F. Separate dough into 8 triangles. Cut each triangle lengthwise into 2 narrow triangles.
Cut jalapeño chiles in half lengthwise; remove seeds. Spoon cream cheese mixture into chile halves.
Place 1 stuffed chile half on shortest side of each triangle. Roll up, starting at shortest side of triangle and rolling to opposite point; place point side down on ungreased cookie sheet.
Bake 14 to 18 minutes or until crescents are deep golden brown.
Pro Tip:Stir a couple slices of cooked and crumbled bacon into the cream cheese mixture before stuffing the jalapeños.
Simple for You, Easy for Them.