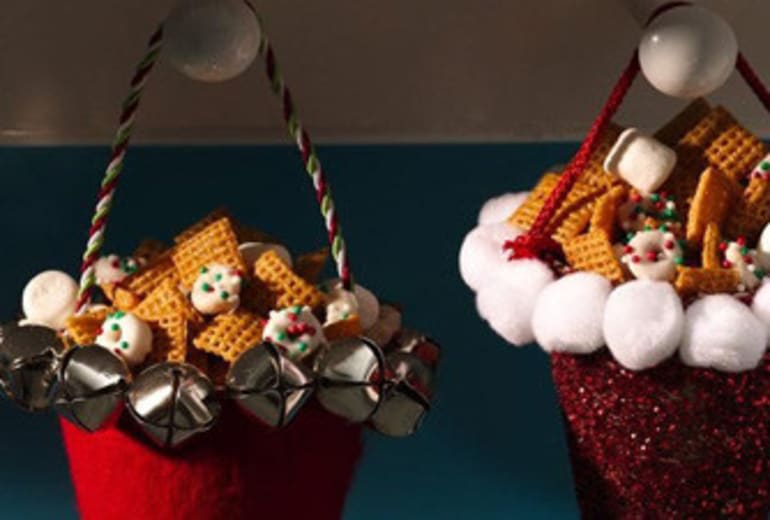 Elf Food
Ingredients
½ cup white vanilla baking chips
½ cup Cheerios™ cereal
2 tablespoons candy sprinkles
6 cups Corn Chex™ or Rice Chex™ cereal
? cup butter
? cup packed brown sugar
2 tablespoons pure maple syrup
2 cups miniature marshmallows
Nutrition
Red Hot Holiday Trends – A surefire way to lure elves back from the North Pole—combine candy sprinkles, maple syrup and tiny doughnuts (made from Cheerios!) for an irresistible mix. Every Elf on the Shelf® will love this!
Serving Size: 1 Serving Calories 150 (Calories from Fat 50), % Daily Value Total Fat 6g (Saturated Fat 4g, Trans Fat 0g), Cholesterol 10mg Sodium 150mg Total Carbohydrate 24g (Dietary Fiber 0g Sugars 14g), Protein 1g; % Daily Value*: Vitamin A 6%; Vitamin C 0%; Calcium 6%; Iron 20%; Exchanges: 1/2 Starch; 0 Fruit; 1 Other Carbohydrate; 0 Skim Milk; 0 Low-Fat Milk; 0 Milk; 0 Vegetable; 0 Very Lean Meat; 0 Lean Meat; 0 High-Fat Meat; 1 Fat; Carbohydrate Choices: 1 ½ *Percent Daily Values are based on a 2,000 calorie diet.
Preparation
In small microwavable bowl, melt white vanilla baking chips uncovered on High 30 to 45 seconds or until they can be stirred smooth. Stir in Cheerios cereal. Spread on waxed paper in single layer; top with sprinkles. Let stand until set, about 30 minutes. Break into pieces; reserve.
Meanwhile, place Chex cereal in large microwavable bowl.
In 2-cup glass measuring cup, melt butter uncovered on High about 30 seconds. Add brown sugar and maple syrup; microwave uncovered on High about 30 seconds or until mixture is boiling. Pour over Chex cereal in bowl, stirring until evenly coated.
Microwave Chex cereal mixture uncovered on High 3 to 4 minutes, stirring every minute, until mixture just begins to brown. Spread on waxed paper or foil. Cool completely, about 15 minutes. Break into bite-size pieces. Stir in miniature marshmallows and reserved Cheerios cereal pieces. Store in airtight container.
Simple for You, Easy for Them.