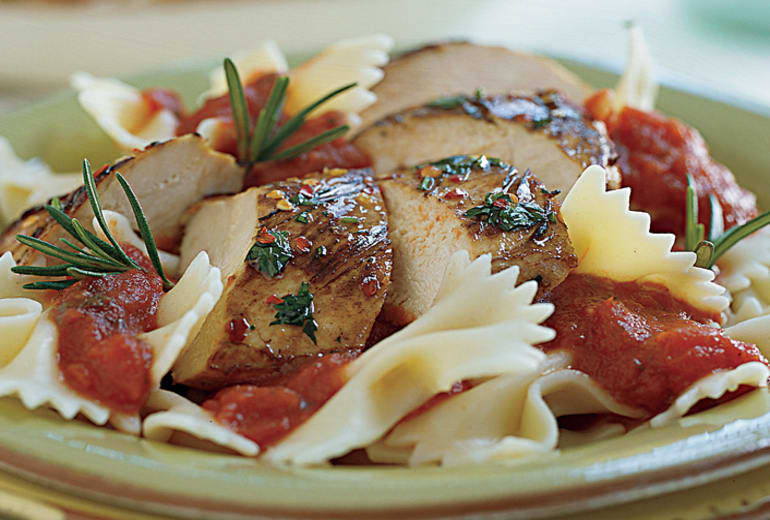 Farfalle With Herb-Marinated Grilled Chicken
Ingredients
1 lb boneless, skinless chicken breast halves
3/4 cup Italian dressing
1 jar Bertolli® Organic Tomato & Basil Sauce, heated
1 box (16 oz) farfalle pasta (or penne pasta)
Nutrition
1 Serving: Calories 460 (Calories from Fat 70); Total Fat 7g (Saturated Fat 1.5g, Trans Fat 0g); Cholesterol 50mg; Sodium 620mg; Total Carbohydrate 70g, Sugar 15g, (Dietary Fiber 5g); Protein 29g
% Daily Value: Vitamin A 15%; Vitamin C 10%; Calcium 6%; Iron 25%
Preparation
Combine chicken with 1/2 cup dressing in shallow bowl; toss to coat. Cover and marinate in refrigerator 30 minutes.
Remove chicken from marinade, discarding marinade. Grill or broil chicken, turning once and brushing frequently with remaining 1/4 cup dressing, 20 minutes or until chicken is thoroughly cooked.
Spoon Sauce over hot farfalle and top with sliced chicken. Garnish, if desired, with additional parsley.
Simple for You, Easy for Them.