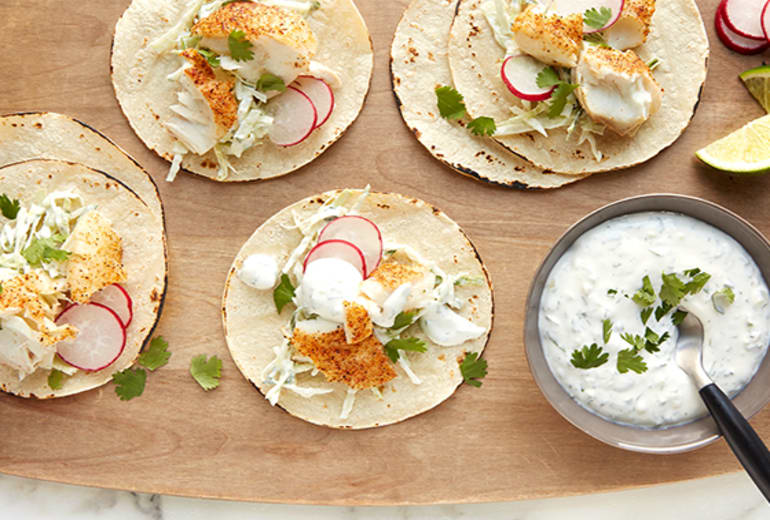 Fish Tacos with Herbed Yogurt Crema
This fish taco features a creamy, tangy crema that doubles as a dressing for the slaw.
Ingredients
2 containers (5.3 oz each) YQ by Yoplait™ Plain (1 1/3 cups)
1/4 cup chopped fresh cilantro leaves
2 2 cloves garlic, finely chopped
1/2 teaspoon salt
2 tablespoons lime juice
3 cups shredded green cabbage
4 (4 oz) skinless white fish fillets (halibut or mahi mahi), about 3/4-inch thick
1 tablespoon olive oil
1/2 teaspoon salt
1/2 teaspoon black pepper
1/4 teaspoon ground red pepper (cayenne)
8 (6-inch) corn tortillas, heated
1/2 cup thinly sliced radishes
1 lime, cut into wedges
Preparation
In medium bowl, mix YQ, cilantro, garlic, 1/2 teaspoon salt and the lime juice to completely blend. In another medium bowl, mix cabbage and 1/2 cup of the YQ mixture. Refrigerate remaining YQ mixture.
Place oven rack 4 inches from broiler. Set oven control to broil. Brush both sides of fish with olive oil. Sprinkle both sides with salt, black pepper and red pepper. Place on ungreased cookie sheet. Broil 7 to 10 minutes, turning once, until fish flakes easily with fork. Cool slightly, then flake fish into bite-sized pieces.
Divide cabbage mixture evenly among tortillas. Top with fish. Spoon 2 tablespoons remaining YQ mixture over fish on each taco. Top with radishes; serve with lime.
Recipe Tips
To save time, use shredded cabbage from the produce section.
The YQ is a tangier, fresh replacement for mayonnaise in the slaw.
Also look for YQ by Yoplait™ Plain in the larger 26 oz container.
Simple for You, Easy for Them.