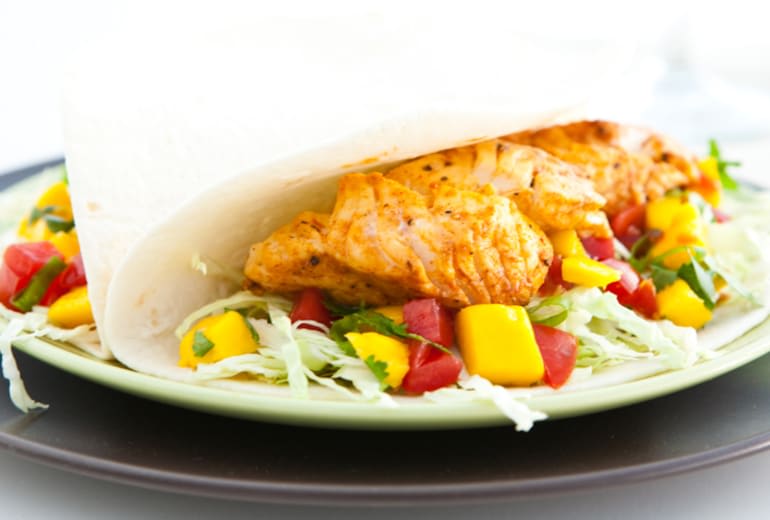 Fish Tacos with Mango Salsa
Fresh mango salsa gives this taco recipe a delicious summery twist, no matter the season!
Ingredients
1 lb. cod, cut into chunks
1 teaspoon cumin
1 teaspoon paprika
1 teaspoon salt
1 teaspoon pepper
1/2 teaspoon chipotle chili powder
1 tablespoon olive oil
4 medium Old El Paso™ flour tortillas
2 cups shredded cabbage
juice from one lime
1/2 cup diced tomato
1 cup diced mango
2 tablespoons freshly chopped cilantro
2 tablespoons sliced green onions
Preparation
Heat skillet over medium heat. Combine fish chunks with all seasoning and toss well to coat. Drizzle skillet with olive oil. Cook fish over medium heat for 10 – 12 minutes, or until done and opaque throughout.
Combine shredded cabbage with vinegar and lime juice. Mix well and set aside.
Combine tomato, mango, cilantro and green onions. Mix well and set aside.
Place cabbage in tortillas. Top with mango salsa and fish chunks.
Recipe Tips
Any other firm white fish can be used in this recipe.
Recipe can be doubled or tripled.
Simple for You, Easy for Them.