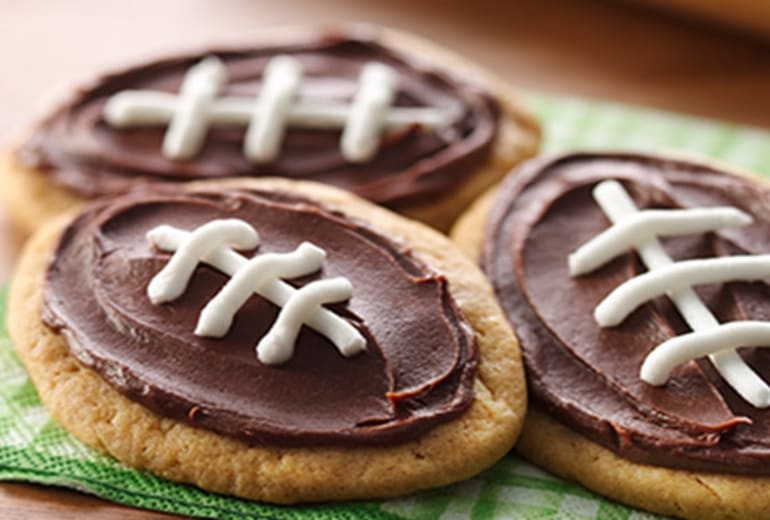 Football Cookies
Slices of refrigerated cookie dough are simply squeezed on each end to form football-shaped cookies–perfect snacks during the big game.
Ingredients
1 roll Pillsbury™ refrigerated sugar cookies
¼ cup all-purpose flour
1 container (1 lb) chocolate creamy ready-to-spread frosting
White decorating gel
Nutrition
1 Serving: Calories 120 (Calories from Fat 50); Total Fat 6g; (Saturated Fat 1 1/2g, Trans Fat 2g); Cholesterol 5mg; Sodium 85mg; Potassium 35mg; Total Carbohydrate 17g; (Dietary Fiber 0g); Sugars 12g; Protein 0g
% Daily Value: Vitamin A 0%; Vitamin C 0%; Calcium 0%; Iron 2%
Exchanges: 0 Starch; 0 Fruit; 1 Other Carbohydrate; 0 Skim Milk; 0 Low-Fat Milk; 0 Milk; 0 Vegetable; 0 Very Lean Meat; 0 Lean Meat; 0 High-Fat Meat; 1 1/2 Fat;
*Percent Daily Values are based on a 2,000 calorie diet.
Preparation
Heat oven to 350°F. In large bowl, break up cookie dough. Stir or knead in flour until well blended. Reshape into log. If too soft to cut into slices, refrigerate up to 30 minutes.
Cut dough into 32 (1/4-inch) slices. With floured fingers, shape each dough slice to form football. On ungreased cookie sheets, place slices 2 inches apart.
Bake 7 to 11 minutes or until set and golden brown. Cool 1 minute; remove from cookie sheets to cooling racks. Cool completely, about 15 minutes.
Spread frosting over cookies. With white decorating gel, draw laces on each football.
Recipe Tips
Keep the slices round, frost with white frosting and use black decorating gel to make soccer ball cookies.
Simple for You, Easy for Them.