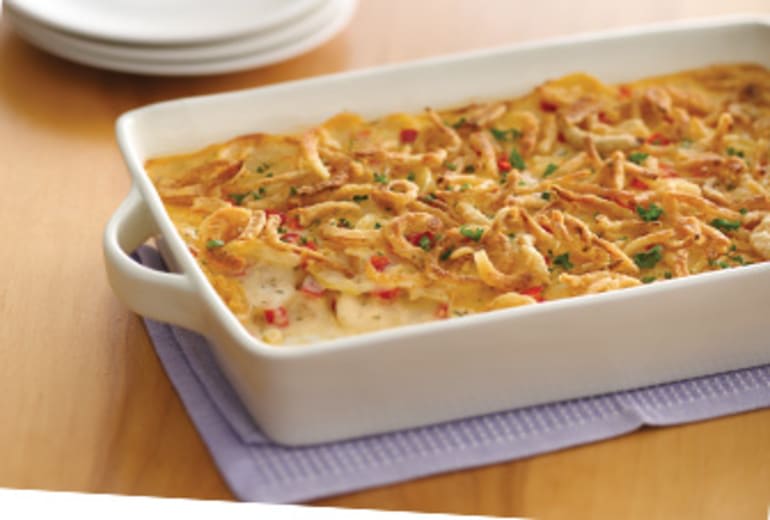 French Onion Scalloped Potatoes
Ingredients
2 boxes (4.7 oz each) Betty Crocker™ scalloped potatoes
1 package (1 oz) ranch salad dressing and seasoning mix (milk recipe)
3 ½ cups boiling water
2 cups half-and-half
¾ cup chopped red bell pepper
1 can (2.8 oz) French-fried onions
2 tablespoons chopped fresh parsley, if desired
Nutrition
Serving Size: 1 Serving Calories 270 (Calories from Fat 110), Total Fat 12g 12% (Saturated Fat 5g, 5% Trans Fat 1 1/2g 1 1/2%), Cholesterol 20mg 20%; Sodium 1120mg 1120%; Total Carbohydrate 36g 36%(Dietary Fiber 2g 2% Sugars 4g 4%), Protein 5g 5%; % Daily Value*: Vitamin A 15%; Vitamin C 20%; Calcium 8%; Iron 4%; Exchanges: 2 Starch; 0 Fruit; 1/2 Other Carbohydrate; 0 Skim Milk; 0 Low-Fat Milk; 0 Milk; 0 Vegetable; 0 Very Lean Meat; 0 Lean Meat; 0 High-Fat Meat; 2 Fat; Carbohydrate Choices: 2 1/2
*Percent Daily Values are based on a 2,000 calorie diet.
Preparation
Heat oven to 400°F.
In 13x9-inch (3-quart) glass baking dish, stir together both Sauce Mixes (from potato boxes), the dressing mix, boiling water and half-and-half with wire whisk. Stir in both Potatoes pouches and the bell pepper. Bake uncovered 35 minutes or until potatoes are tender.
Top with onions; bake 10 minutes longer. Sprinkle with parsley before serving. Let stand 5 minutes before serving (sauce will thicken as it stands).
Simple for You, Easy for Them.