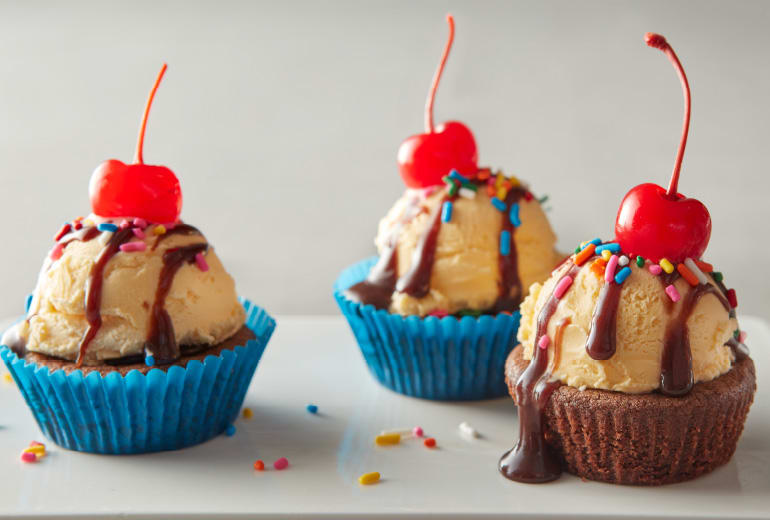 Fudge-Filled Brownie Cup Sundaes
Our best idea yet? Using brownies as bowls for classic ice cream sundaes in this genius recipe. These delicious treats come together in minutes, thanks to Pillsbury™ Place & Bake™ refrigerated chocolate fudge brownies that get baked in a muffin pan and then filled with ice cream, extra fudge and all of your favorite sundae toppings. They're so easy to throw together, even your little ones can help you make them!
Ingredients
1 package Pillsbury Place & Bake™ Chocolate Fudge Brownies
1 cup hot fudge topping
2 cups vanilla ice cream
Multi-colored sprinkles, if desired
Maraschino cherries, if desired
Preparation
Heat oven to 350°F (325°F for nonstick pan). Place paper baking cups in 12 regular-size muffin cups.
Place brownie dough rounds into muffin cups. Bake 21 to 23 minutes or until toothpick inserted into center comes out almost clean.
Cool 2 minutes. With back of spoon, press to indent center of each brownie cup, leaving 1/4-inch ridge around edge. Cool in pan 15 minutes. Remove to cooling rack; cool completely, about 30 minutes.
Place fudge topping in small microwavable bowl; microwave uncovered on High 30 to 40 seconds or until topping can be stirred. Spoon a tablespoonful of fudge topping into each brownie center. Top with small scoop of ice cream. If necessary, microwave remaining fudge topping uncovered on High 10 to 20 seconds or until thin enough to drizzle. Drizzle over ice cream. Top with sprinkles and cherries.
Recipe Tips
Brownies are best the same day. If making the day before, store at room temperature in airtight container until ready to assemble.
Get creative with your filled brownie cups! Additional filling and topping ideas include caramel topping, crushed chocolate sandwich cookies, mini candy-coated chocolate candies, sliced berries or banana, chopped nuts and mini chocolate chips. Use your favorite flavor of ice cream to change things up!
Try making these sundaes with Pillsbury Place & Bake™ refrigerated marshmallow brownies or Pillsbury Place & Bake™ refrigerated peanut butter chip brownies.
Simple for You, Easy for Them.