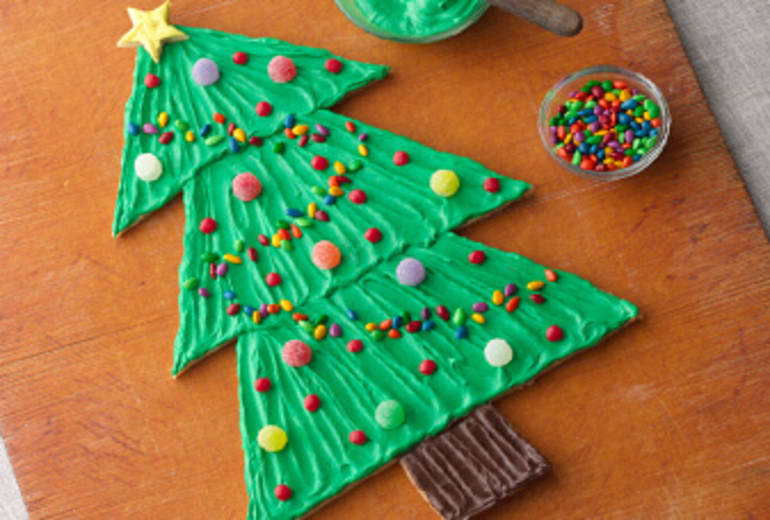 Giant Christmas Tree Cookies
Ingredients
1 pouch Betty Crocker™ sugar cookie mix
1/3 cup butter, softened
1 egg
Betty Crocker™ green gel food color
1 container Betty Crocker™ Whipped fluffy white frosting
Sprinkles, candies and decors, as desired for decorating
Nutrition
Serving Size: 1 Serving
Calories 210 Calories from Fat 80 Total Fat 9g Saturated Fat 3 1/2g Trans Fat 2g Cholesterol 15mg Sodium 110mg Total Carbohydrate 30g Dietary Fiber 0g Sugars 0g Protein 1g
% Daily Value*: Vitamin A 2% Vitamin C 0% Calcium 0% Iron 0%
Exchanges: 0 Starch; 0 Fruit; 2 Other Carbohydrate; 0 Skim Milk; 0 Low-Fat Milk; 0 Milk; 0 Vegetable; 0 Very Lean Meat; 0 Lean Meat; 0 High-Fat Meat; 2 Fat; Carbohydrate Choice 2
*Percent Daily Values are based on a 2,000 calorie diet.
Preparation
Heat oven to 375°F. Line 15x10x1-inch pan with foil.
In medium bowl, stir cookie mix, butter and egg until soft dough forms. With moistened fingers, press dough in bottom of pan.
Bake 10 to 14 minutes or until light golden brown; cool completely, about 30 minutes.
Cut tree shape from baked cookie. If you need help, create a tree template. Place the template on the baked cookie and cut around it using a sharp knife.
Stir food color into frosting as desired. Decorate cookie tree with frosting and candies.
Simple for You, Easy for Them.