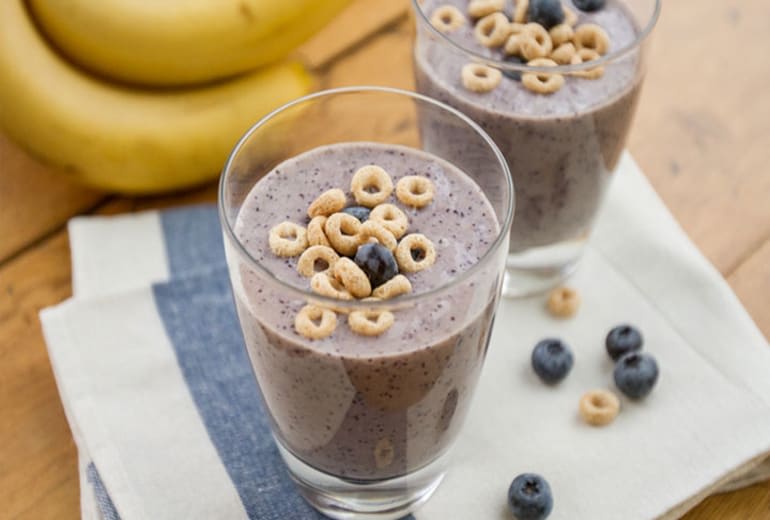 Gluten-Free Blueberry-Banana Cheerios Smoothies
Fresh fruit, cereal and milk make for the ultimate breakfast smoothie.
Ingredients
1 cup milk
1 cup Honey Nut Cheerios™ cereal
1 ripe banana, cut into chunks
1 cup fresh blueberries
1 cup ice
Garnishes, If Desired
Banana slices
Additional cereal
Nutrition
Calories 240 (Calories from Fat 35), Total Fat 4g, (Saturated Fat 2g, Trans Fat 0g), Cholesterol 10mg, Sodium 170mg, Potassium 520mg, Total Carbohydrate 45g, (Dietary Fiber 4g, Sugars 27g), Protein6g
% Daily Value*: Vitamin A 15%; Vitamin C 30%; Calcium 20%; Iron 20%
Exchanges: 1 Starch; 1 1/2 Fruit; 0 Other Carbohydrate; 0 Skim Milk; 1/2 Low-Fat Milk; 0 Milk; 0 Vegetable; 0 Very Lean Meat; 0 Lean Meat; 0 High-Fat Meat; 0 Fat
*Percent Daily Values are based on a 2,000 calorie diet.
Preparation
In blender, place Smoothie ingredients. Cover; blend on high speed about 30 seconds or until smooth.
Pour into 2 glasses. Garnish as desired. Serve immediately.
Recipe Tips
Don't have fresh blueberries on hand? Swap in frozen blueberries or frozen mixed berries, and omit the 1 cup of ice.
For an extra-creamy smoothie, add 1 cup vanilla yogurt.
Always read labels to make sure each recipe ingredient is gluten free. Products and ingredient sources can change.
Simple for You, Easy for Them.