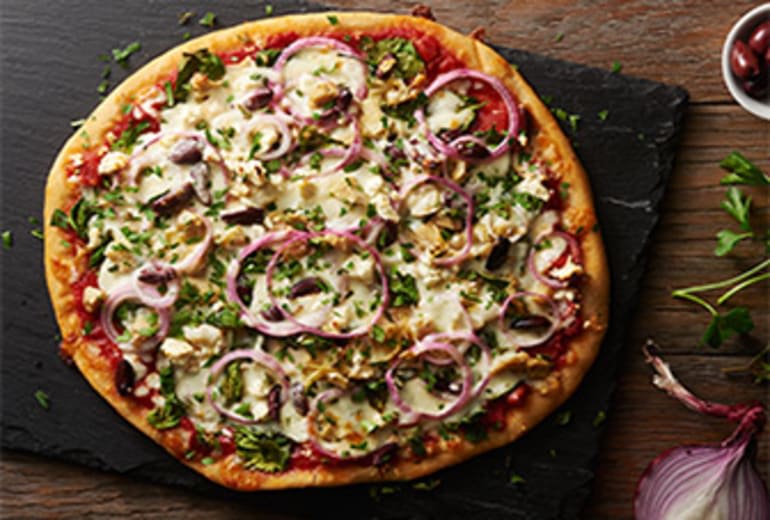 Greek Veggie Pizza
Go Greek for dinner tonight! This fresh vegetarian pizza is saucy, cheesy and just plain delicious.
Ingredients
1 package Pillsbury's Best™ refrigerated classic crust pizza dough
¾ cup Muir Glen™ organic crushed tomatoes (from 14.5-oz can)
2 cups baby spinach leaves (lightly packed)
¼ cup chopped Progresso™ marinated artichoke hearts (from 6-oz jar), drained, patted dry
¼ cup thinly sliced red onion
2 tablespoons quartered pitted kalamata olives
2 cloves garlic, finely chopped
1 ½ cups shredded mozzarella cheese (6 oz)
¼ cup crumbled feta cheese
1 tablespoon chopped fresh Italian (flat-leaf) parsley leaves
1 teaspoon chopped fresh oregano leaves
Nutrition
1 Serving: Calories 310 (Calories from Fat 100); Total Fat 11g; (Saturated Fat 4 1/2g, Trans Fat 0g); Cholesterol 25mg; Sodium 780mg; Potassium 115mg; Total Carbohydrate 37g; (Dietary Fiber 2g); Sugars 3g; Protein 14g
% Daily Value: Vitamin A 30%; Vitamin C 4%; Calcium 25%; Iron 10%
Exchanges: 2 Starch; 0 Fruit; 0 Other Carbohydrate; 0 Skim Milk; 0 Low-Fat Milk; 0 Milk; 1 Vegetable; 0 Very Lean Meat; 0 Lean Meat; 0 High-Fat Meat; 1 Fat;
*Percent Daily Values are based on a 2,000 calorie diet.
Preparation
Heat oven to 425°F. Place oven rack in low position. Unroll dough with oven-safe parchment paper onto ungreased large cookie sheet (dough bakes on paper). Spread tomatoes evenly over dough.
Top with spinach, followed by artichoke hearts, red onion, olives and garlic. Top with mozzarella and feta cheeses.
Bake 16 to 21 minutes or until crust is golden brown. Top with parsley and oregano.
Recipe Tips
No fresh oregano? No problem. Substitute 1/4 teaspoon dried. Sprinkle it over the tomatoes before topping with spinach.
Don't skip the step of patting the artichokes dry – it helps keep the crust from getting soggy.
Always read labels to make sure each recipe ingredient is vegetarian. Products and ingredient sources can change
Simple for You, Easy for Them.