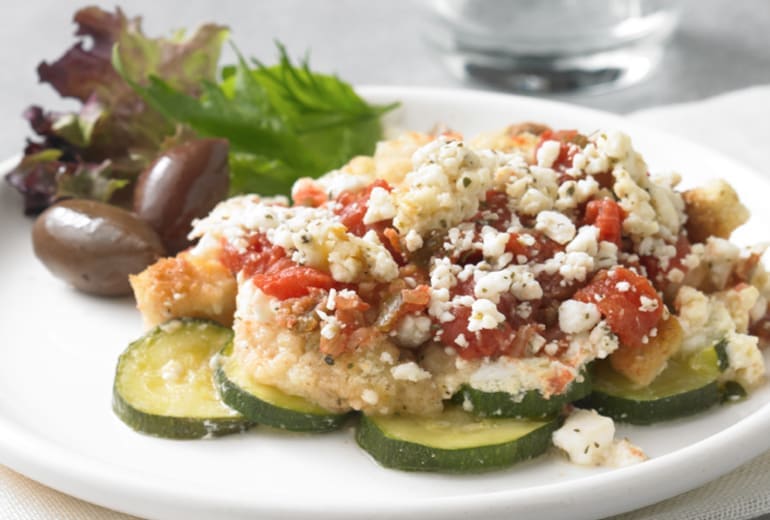 Greek Zucchini Bake
A simple, layered and meatless baked dish with zucchini, stewed tomatoes and feta cheese.
Ingredients
3 small zucchini, sliced thin (3 = 3/4 lb)
1 cup fat free small curd cottage cheese
1/4 cup Egg Beaters® Original
1 cup Italian seasoned croutons, crushed slightly
1 can (14.5 oz each) Hunt's® Stewed Tomatoes, drained
1/2 cup crumbled feta cheese with garlic and herbs
PAM® Original No-Stick Cooking Spray
Nutrition
1 Serving: Calories 190; Total Fat 6g (Saturated Fat 3g); Cholesterol 21mg; Sodium 730mg; Total Carbohydrate 22g, Sugar 9g, (Dietary Fiber 2g); Protein 12g
% Daily Value: Vitamin A 27%; Vitamin C 30%; Calcium 20%; Iron 6%
*Percent Daily Values are based on a 2,000 calorie diet.
Preparation
Preheat oven to 375 °F. Spray 8x8-inch baking dish with cooking spray. Place zucchini in medium microwave-safe bowl. Cover; microwave on HIGH 5 minutes. Drain well, patting dry with paper towels. Layer zucchini in bottom of baking dish.
Combine cottage cheese and Egg Beaters in same bowl; mix well. Spread cottage cheese mixture over zucchini. Top with croutons and drained tomatoes; sprinkle with feta cheese. Cover loosely with aluminum foil.
Bake 15 minutes. Uncover; bake 10 minutes more or until bubbly around edges and set. Let stand 5 minutes before serving.
Simple for You, Easy for Them.