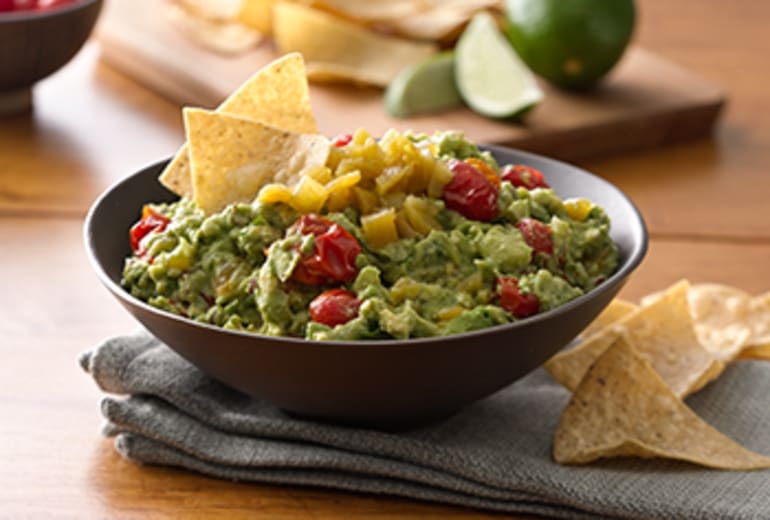 Green Chile and Roasted Tomato Guacamole
Ingredients
1 cup grape tomatoes
11 ½ tablespoon olive oil
3 large ripe avocados
1 (4.5 oz) can Old El Paso™ Chopped Green Chiles
1/3 cup chopped fresh cilantro
1/4 cup chopped red onion
1 small jalapeño pepper, seeded and finely chopped
2 tablespoons fresh lime juice
1/4 cup crumbled cotija cheese
Coarse salt and freshly ground pepper, to taste
Tortilla chips, for serving
Nutrition
Expert Tips
Make sure you choose ripe avocados to make the guacamole.
Old El Paso's green chiles give the guacamole a great flavor and the roasted tomatoes add a pop of color and freshness!
Preparation
Preheat oven to 400 F. Place grape tomatoes on a baking sheet and toss with olive oil. Roast until tomatoes are juicy and start to pop, about 15-20 minutes. Remove from oven and set aside to cool to room temperature.
Cut each avocado in half lengthwise. Remove the pit from the avocado and discard. Remove the avocado from the skin, and place the avocado flesh in a bowl. Smash avocado with a fork until desired consistency.
Add the green chiles, cilantro, red onion, jalapeño, lime juice, and cotija cheese. Gently stir in the roasted tomatoes. Season with salt and black pepper, to taste. Serve immediately with tortilla chips.
Simple for You, Easy for Them.