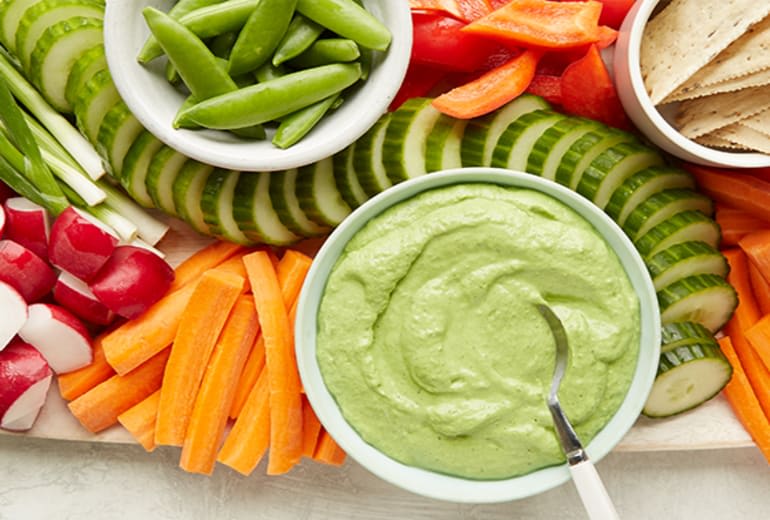 Green Goddess Dip
This magical green goddess dip is great on almost anything, and the secret ingredient—YQ by Yoplait™ Plain—makes it super creamy and delicious.
Ingredients
2 cups packed baby spinach
1/2 cup fresh Italian (flat-leaf) parsley
4 green onions, cut in thirds
2 tablespoons coarsely chopped fresh basil leaves
3 tablespoons water
4 tablespoons lemon juice
2 cloves garlic
1/2 teaspoon salt
1/4 teaspoon pepper
2 containers (5.3 oz each) YQ by Yoplait™ Plain (1 1/3 cups)
1 medium avocado, pitted and peeled
Preparation
In blender, place all ingredients except YQ and avocado. Spoon YQ on top of ingredients in blender. Cover; blend 60 to 90 seconds or until ingredients are incorporated, scraping down blender as needed. Add avocado; blend 30 to 60 seconds longer or until smooth.
Serve dip immediately with vegetables, or cover and refrigerate up to 4 days.
Recipe Tips
Placing the YQ on top of the herb mixture and adding avocado last makes the mixture easier to blend.
To prevent discoloration, press plastic wrap on top of dip in storage container before covering and storing.
Also look for YQ by Yoplait™ Plain in the larger 26 oz container.
Simple for You, Easy for Them.