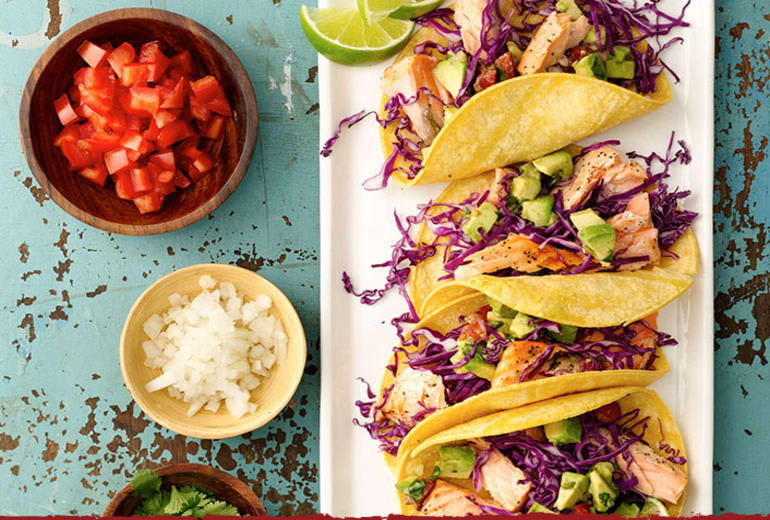 Grilled Salmon Tacos with Chunky Guacamole
Chunky guacamole provides a tasty addition to these grilled salmon tacos. A perfect Mexican dinner that's ready in 30 minutes.
Ingredients
Chunky Guacamole

2 plum (Roma) tomatoes, chopped
2 Avocados From Mexico® avocados, peeled, chopped
¼ cup finely chopped onion
1 serrano chile, seeded, finely chopped
¼ cup chopped fresh cilantro
1 tablespoon lime juice
½ teaspoon salt

tacos

3 tablespoons lime juice
½ teaspoon salt
½ teaspoon freshly ground pepper
4 salmon fillets (about 6 oz each)
2 tablespoons vegetable oil
10 (6 inch) Old El Paso™ flour tortillas
2 cups finely shredded red cabbage
Lime wedges
Nutrition
1 Taco: Calories 260 (Calories from Fat 120); Total Fat 13g (Saturated Fat 2 1/2g, Trans Fat 0g); Cholesterol 45mg; Sodium 450mg; Total Carbohydrate 18g (Dietary Fiber 3g, Sugars 2g); Protein 17g
% Daily Value: Vitamin A 8%; Vitamin C 15%; Calcium 6%; Iron 10%
Exchanges: 1 Starch, 0 Fruit, 0 Other Carbohydrate, 0 Skim Milk, 0 Low-Fat Milk, 0 Milk, 0 Vegetable, 0 Very Lean Meat, 2 Lean Meat, 0 High-Fat Meat, 1 1/2 Fat
Carbohydrate Choices: 1
*Percent Daily Values are based on a 2,000 calorie diet.
Preparation
In medium bowl, mix Chunky Guacamole ingredients. Cover; refrigerate until ready to serve.
In small bowl, mix 3 tablespoons lime juice, ½ teaspoon salt and the pepper. Rub salmon fillets with lime juice mixture; let stand 15 minutes.
In 12-inch skillet, heat oil over medium heat until hot. Cook salmon fillets in oil 15 to 20 minutes or until fish flakes easily with fork, turning once. Remove from heat; cut in serving-size pieces, removing and discarding skin.
Fill tortillas with salmon and cabbage. Serve with guacamole and lime wedges.
Simple for You, Easy for Them.