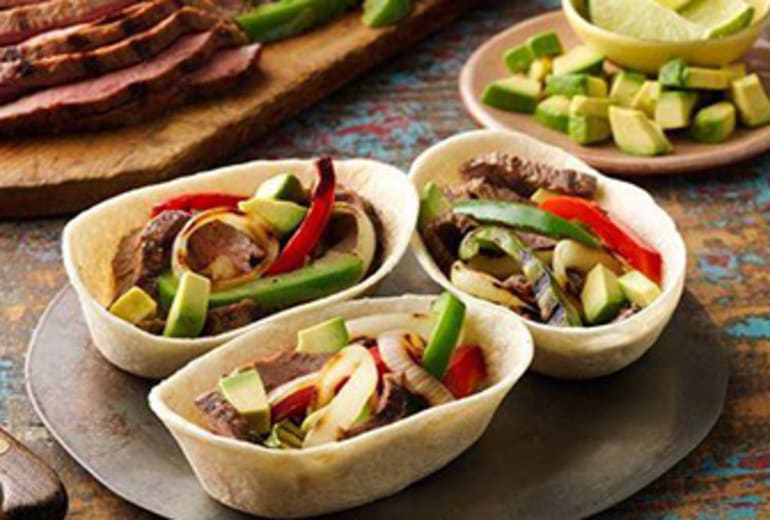 Grilled Steak Fajita Boats
Ingredients
1 flank steak (2 to 3 lb)
1 package (1 oz) Old El PasoTM fajita seasoning mix
1 small onion, cut into thick slices
1 red bell pepper, halved
1 green bell pepper, halved
1 Old EL PasoTM Taco BoatsTM Soft Flour Tortillas
Make it FRESH toppings, if desired
Nutrition
Try this new twist on the traditional fajita using Old El PasoTM Taco BoatsTM Soft Flour Tortillas! These 'boats' make eating your Mexican creation even easier.
1 serving Calories 170 (Calories from Fat 90), Total Fat 10g (Saturated Fat 5g, Trans Fat 0g), Cholesterol 25mg, Sodium 810 mg, Total Carbohydrate 13g (Dietary Fiber 3g, Sugars 1g), Protein 6g; % Daily Value*: Vitamin A 15%; Vitamin C 10%; Calcium 10%; Iron 14%; Exchanges: 1 Starch; 0 Fruit; 0 Other; 0 Milk Skim Milk; 1 Low-Fat Milk; 0 Milk; 0 Vegetable; 0 Very Lean Meat; 0 Lean Meat; 0 High-Fat Meat; 2 Fat; Carbohydrate Choices: 1
*Percent Daily Values are based on a 2,000 calorie diet
Preparation
Heat gas or charcoal grill. Sprinkle steak generously with seasoning on both sides; press into steak.
Place steak on direct heat of grill over medium heat; place vegetables (onion and bell peppers) on indirect heat of grill. Cover grill; cook 12 to 14 minutes for medium doneness. Remove from grill and let steak rest 10 minutes; cut into slices diagonally across the grain. Cut bell peppers into slices for serving.
Spoon grilled steak and vegetables into tortillas. Serve with desired toppings.
Recipe Tips
Flank steak is used in this recipe, but several other cuts of beef would work well.
Both sirloin and top round would be delicious. Both can be purchased in 1-lb increments.
Grill as directed in recipe, and let rest before slicing.
Make it FRESH toppings ideas: diced Avocados From MexicoTM avocado, fresh lime wedges, sour cream or crema.
Simple for You, Easy for Them.