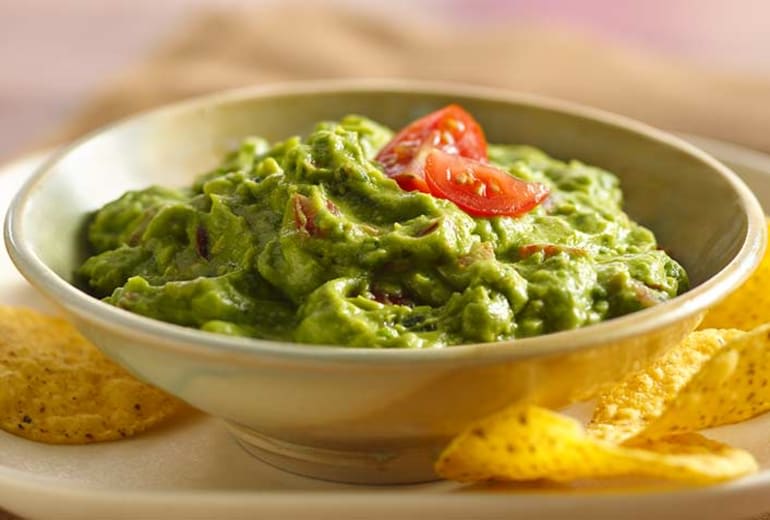 Guacamole
Few appetizers are more associated with Mexican food than guacamole. Who can resist this sumptuous green dip made from ripe avocados? This recipe is the real thing with just the right balance of avocados, onion, jalapeño chilies, cilantro and lime juice.
Ingredients
2 large ripe Avocados from Mexico®

avocados

, pitted, peeled and mashed
2 medium tomatoes, finely chopped (1 1/2 cups)
2 jalapeño chilies, seeded and finely chopped
1 medium onion, chopped (1/2 cup)
1 1 garlic clove, finely chopped
2 tablespoons finely chopped fresh cilantro
2 tablespoons lime or lemon juice
1/2 teaspoon salt
Dash of pepper
Tortilla chips, if desired
Preparation
Mix all ingredients except tortilla chips in glass or plastic bowl. Cover and refrigerate 1 hour to blend flavors.
Serve with tortilla chips.
Recipe Tips
Avocados are best when picked while still hard, which is often how they arrive in the supermarket. Let them stand at room temperature for a few days to ripen. Speed ripening by placing the avocados in a paper bag. Ripe avocados will give slightly when pressed with your thumb.
You can use 2 tablespoons canned chopped green chilies for the jalapeño chilies.
For 0 grams of fat and 5 calories per serving, substitute a 15-ounce can of asparagus cuts, drained then blended or processed until smooth, for the avocados. Stir in 1/4 cup fat-free mayonnaise.
To cut an avocado for prime guacamole mashing, cut it lengthwise through skin and flesh around pit. With your hands, slowly twist both sides of avocado to separate. Carefully slide table teaspoon under the pit to remove it. With a knife, make criss-cross cuts through the avocado's flesh, removing avocado pieces with a spoon.
To make Cojita (a hard, crumbly Mexican cheese made from cow's milk) guacamole, stir in 1/2 cup crumbled Cojita cheese with remaining ingredients in Step 1.
Simple for You, Easy for Them.