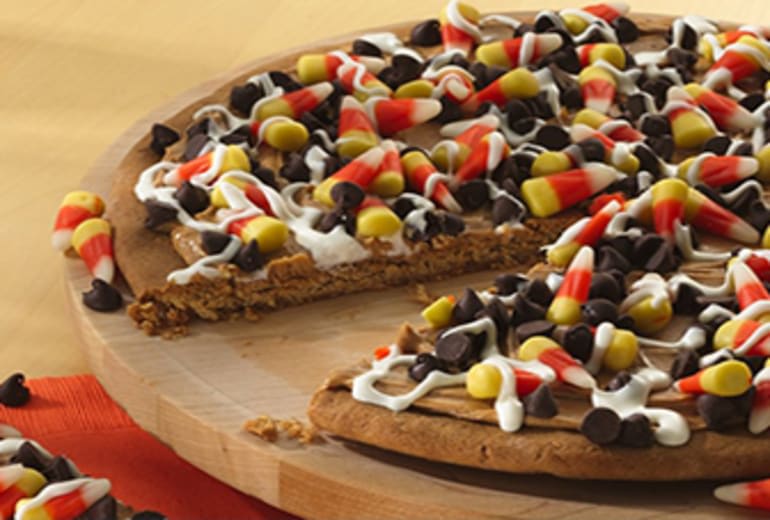 Halloween Cookie Pizza
Ingredients
1 roll (16.5 oz) Pillsbury™ refrigerated sugar cookies
1/2 cup creamy peanut butter
1 cup candy corn
1/2 cup chocolate chips or raisins
1/4 cup vanilla ready-to-spread frosting (from 1-lb can)
Nutrition
Top this sweet pizza any way you like, Halloween-style. Just 5 ingredients, 15 minutes prep.
Serving Size: 1 serving Calories 270, % Daily Value Total Fat 11g 17% (Saturated Fat 3g 15%, Trans Fat 1 1/2g), Cholesterol 10mg 3%, Sodium 125mg 5%, Total Carbohydrate 39g 13%, (Dietary Fiber 0g 0%), Protein 3g 3%; % Daily Value*: Vitamin A 0%; Vitamin C 0%; Calcium 0%; Iron 6%; Exchanges: 1/2 Starch; 0 Fruit; 2 Other Carbohydrate; 0 Skim Milk; 0 Low-Fat Milk; 0 Milk; 0 Vegetable; 0 Very Lean Meat; 0 Lean Meat; 0 High-Fat Meat; 2 Fat;
*Percent Daily Values are based on a 2,000 calorie diet.
Preparation
Heat oven to 350°F. Line 12-inch pizza pan with foil; grease foil with shortening. Cut cookie dough into 1/4-inch-thick slices; arrange in pan. With floured fingers, press slices to form crust.
Bake 15 to 20 minutes or until deep golden brown. Cool completely, about 30 minutes.
Use foil to lift crust from pan. Carefully remove foil from crust; place crust on serving platter or tray. Spread peanut butter over crust. Sprinkle candy corn and raisins evenly over top.
In small microwavable bowl, microwave frosting on High 10 to 15 seconds or until thin and drizzling consistency. Drizzle frosting over cookie pizza. Cut into wedges or squares.
Simple for You, Easy for Them.