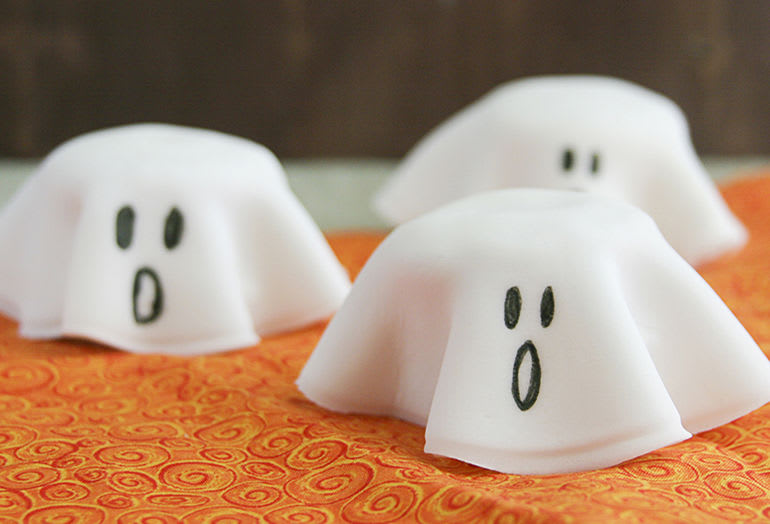 Halloween Ghost Cookie Stacks
Stacked sugar cookies get a spooky makeover with this fun decorating idea using cream cheese frosting, fondant, and black edible marker.
Ingredients
1 pouch (1 lb 1.5 oz) Betty Crocker™ sugar cookie mix
1/2 cup butter, softened
1 egg
1 container Betty Crocker™ Rich & Creamy cream cheese frosting
1 box (24 oz) rolled fondant
Black edible marker
Nutrition
1 Serving Calories nc  (Calories from Fat nc);  Total Fat nc  (Saturated Fat nc,  Trans Fat nc); Cholesterol nc;  Sodium nc;  Total Carbohydrate nc  (Dietary Fiber nc,  Sugars nc);  Protein nc
% Daily Value: Vitamin A  nc;  Vitamin C  nc;  Calcium nc;  Iron  nc;
Exchanges:
Carbohydrate Choice: nc
Substitute your favorite Betty Crocker® cookie mix for the sugar cookies, if desired.
You can bake the cookies ahead of time and keep them in an airtight container, but don't cover with the fondant until ready to serve.
Look for fondant and edible markers at cake decorating stores. Some larger grocery stores will even carry these products.
Preparation
Heat oven to 375°F. In medium bowl, stir cookie mix, butter and egg until soft dough forms. Shape dough into 70 balls, using about 1 teaspoon of dough for each. On ungreased cookie sheets, place balls about 2 inches apart.
Bake about 5 minutes or until golden around edges but still soft in center. Carefully remove from cookie sheets to cooling racks; cool completely.
Spoon frosting into decorating bag or resealable food-storage plastic bag with corner cut off. For each cookie stack, pipe frosting on 1 cookie; top with 4 more cookies, piping frosting in between each.
On lightly greased work surface, knead fondant about 2 minutes to soften. Roll fondant with rolling pin until thin. With sharp knife, cut fondant into 14 (5-inch) rounds, using 5-inch-diameter bowl for pattern and rerolling scraps, if needed.
Pipe more frosting on top of each cookie stack. Place 1 fondant round on top of each stack, draping over sides and adhering to frosting on top cookie. Use edible marker to draw ghost faces.
Simple for You, Easy for Them.