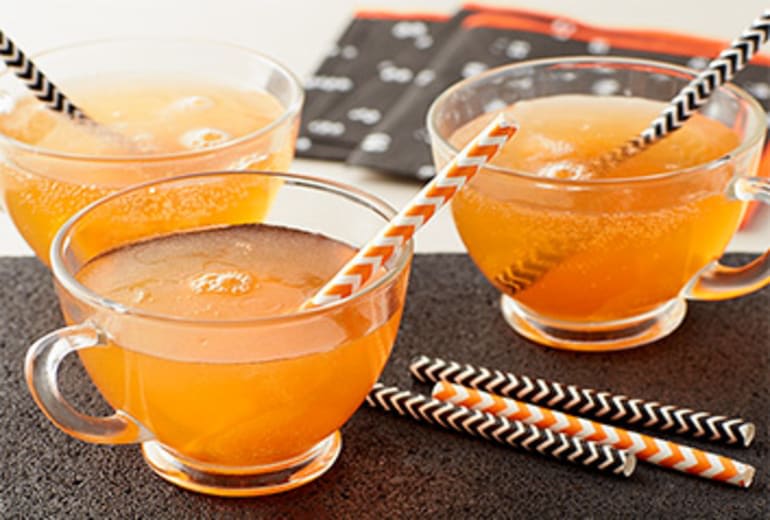 Halloween Iced Tea Punch
Iced tea becomes a Halloween treat when mixed with mango peach juice and mandarin oranges.
Ingredients
1 bottle (64 oz) V8™ Splash™ mango peach juice, refrigerated
5 cups Pure Leaf™ unsweetened iced tea (from 64-oz bottle), refrigerated
3 cups (4-oz size each) Del Monte™ mandarin oranges (from 1-lb package), refrigerated
3 cups Mist Twst™ lemon lime soda, refrigerated (from 2-liter bottle)
Nutrition
1 Serving (1/2 cup each): Calories 30 (Calories from Fat 0); Total Fat 0g (Saturated Fat 0g, Trans Fat 0g); Cholesterol 0mg; Sodium 0mg; Potassium 35mg; Total Carbohydrate 8g (Dietary Fiber 0g); Protein 0g
% Daily Value: Vitamin A 6%; Vitamin C 30%; Calcium 0%; Iron 0%
Exchanges: 1/2 Other Carbohydrate
Carbohydrate Choices: 1/2
Preparation
In large punch bowl, mix mango peach juice, iced tea and mandarin oranges with juice
Just before serving, stir in soda.
Recipe Tips
Serve this punch in chilled glasses with fun Halloween straws.
For a special touch, drain mandarin oranges (add juice to iced tea mixture). Place orange slice in each partition of ice cube tray. Fill with water, and freeze. Place ice cubes in glasses or punch bowl.
Simple for You, Easy for Them.