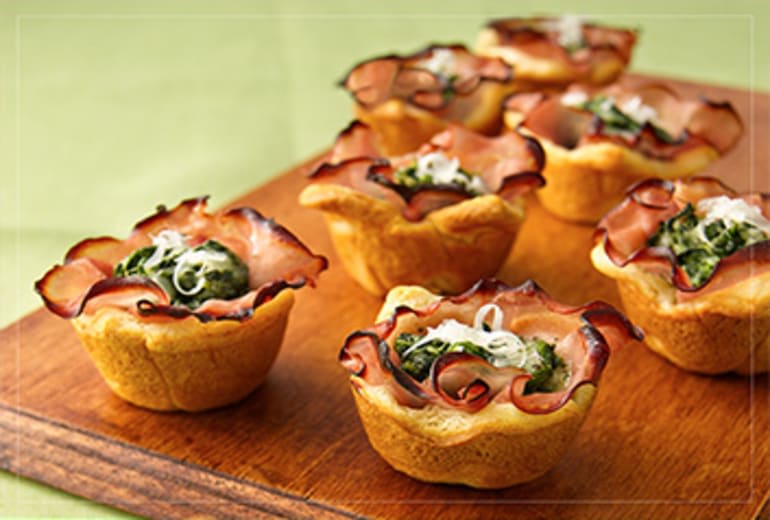 Ham Florentine Mini – Cups
Before pasta sauce was invented, pasta was seen as finger food! No forks needed as the sauce-less pasta was eaten by hand.
Ingredients
1 box (9 oz) Green Giant™ frozen spinach, thawed, squeezed to drain
1 can (8 oz) Pillsbury™ refrigerated crescent dinner rolls
1/3 cup garlic-and-herbs spreadable cheese
1/4 cup (1 oz) shredded mozzarella cheese
1/4 cup (1 oz) shredded 5-cheese or 6-cheese Italian cheese blend
3 tablespoons freshly grated Pecorino Romano or regular Romano cheese
2 tablespoons finely chopped shallot or onion
1/4 teaspoon garlic powder
24 whole, thin slices (about 4 inch diameter) smoked ham (from two 9-oz packages)
1/8 teaspoon salt, if desired
1/8 teaspoon pepper, if desired
Freshly grated Parmesan cheese, if desired
Nutrition
A stunning appetizer will add a "Wow" to your next get-together.
1 Serving: (1 appetizer) Calories 80 (Calories from Fat 40), Total Fat 4 1/2g 7%; (Saturated Fat 2g 11%; Trans Fat 1/2g;), Cholesterol 10mg 4%; Sodium 260mg 11%; Total Carbohydrate 4g 1%; (Dietary Fiber 1g 0%; Sugars 0g 0%), Protein 4g 4%
% Daily Value*: Vitamin A 20%; Vitamin C 0%; Calcium 4%; Iron 4%
Exchanges: 0 Starch; 0 Fruit; 1/2 Other Carbohydrate; 0 Skim Milk; 0 Low-Fat Milk; 0 Milk; 0 Vegetable; 0 Very Lean Meat; 0 Lean Meat; 1/2 High-Fat Meat; 0 Fat
*Percent Daily Values are based on a 2,000 calorie diet.
Preparation
Heat oven to 375°F. In medium bowl, mix all ingredients except dough, ham and Parmesan cheese until well blended. Set aside.
Unroll dough. Separate or cut dough into 4 rectangles (if using crescent dough, press perforations to seal). Cut each rectangle into 6 (2-inch) squares. Press 1 square in bottom and up side of each of 24 ungreased mini muffin cups.
Pat each ham slice dry with paper towel. Place 1 ham slice over dough in each cup (edges of ham will be higher than side of cup.) Spoon rounded 1 teaspoon spinach mixture onto ham in center of each cup.
Bake 14 to 18 minutes or until crust is golden brown and filling is hot. To prevent excessive browning of ham, cover lightly with foil after first 5 minutes of baking. Cool in pan 1 minute. Gently remove from pan; let stand 3 minutes. Sprinkle lightly with Parmesan cheese before serving. Serve warm.
Recipe Tips
For recipe success, whole paper-thin slices (about 4 inch diameter) of smoked ham (not shaved ham) are needed so slices can be easily formed into the dough-lined cups.
Simple for You, Easy for Them.