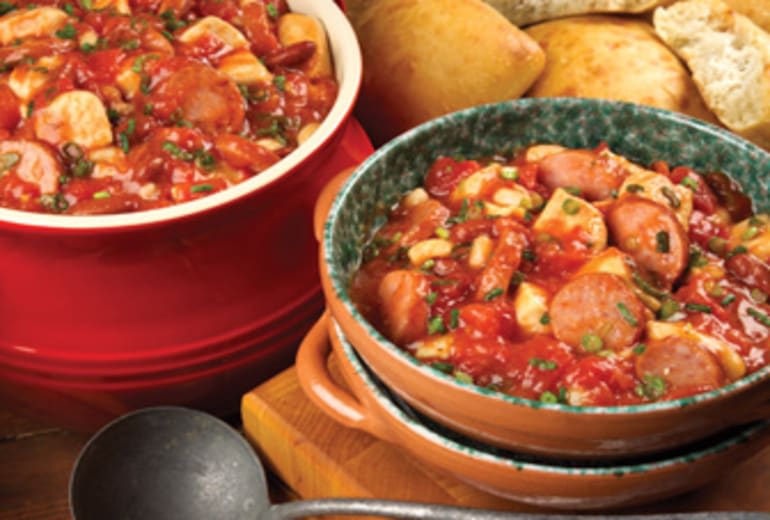 Hearty Cassoulet
Ingredients
PAM® Original No-Stick Cooking Spray
1 pound smoked sausage, thinly sliced
12 ounces boneless skinless chicken breasts, cut into 1-inch pieces
1 can (28 oz each) Hunt's® Diced Tomatoes, undrained
1 can (15 oz each) Great Northern beans, drained, rinsed
1 can (15 oz each) red kidney beans, drained, rinsed
2 tablespoons firmly packed brown sugar
1 teaspoon garlic powder
1/2 teaspoon dried thyme leaves
3/4 cup thinly sliced green onions
Nutrition
Serving Size: 6 servings (1 -1/3 cups each) Calories 447; Total Fat 24g (Saturated Fat 8g); Cholesterol 80mg; Sodium 1202mg; Carbohydrate 27g; (Dietary Fiber 7g, Sugars 9g); Protein 29g; % Daily Values*: Vitamin A 21%; Vitamin C 29%; Calcium 10%; Iron 15%
*Percent Daily Values are based on a 2,000-calorie diet.
Preparation
Spray large saucepan or Dutch oven with cooking spray. Heat 1 minute over medium-high heat; add sausage and chicken. Cook 5 minutes, or until chicken is no longer pink, stirring frequently.
Add tomatoes with their liquid, beans, sugar, garlic powder and thyme. Bring to a boil; cover with lid. Reduce heat to low. Simmer 15 minutes, stirring occasionally.
Remove from heat; stir in onions.
Simple for You, Easy for Them.