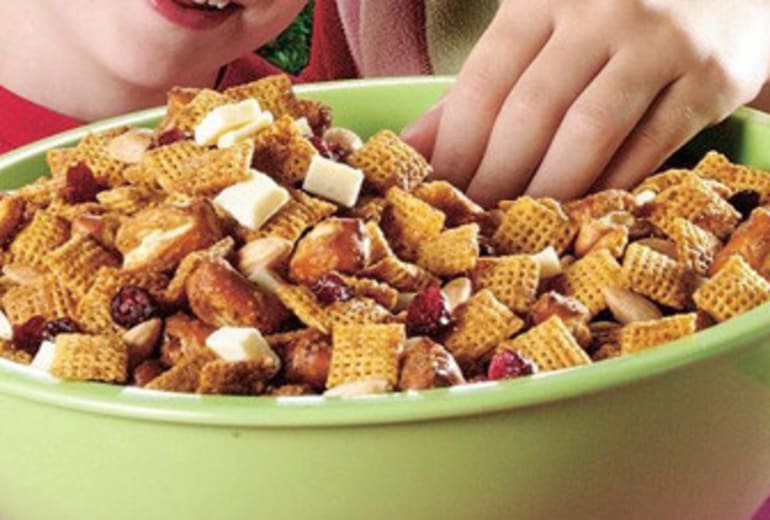 Holiday Spiced Snack Mix
Ingredients
½ cup butter or margarine
½ cup packed brown sugar
2 teaspoons pumpkin pie spice
1 teaspoon grated orange peel
1 teaspoon vanilla
¼ teaspoon pepper
6 cups Corn Chex™ cereal
3 cups sourdough pretzel nuggets
2 cups un-blanched or blanched whole almonds
1 package (6 oz) sweetened dried cranberries
1 bag (12 oz) white chocolate chunks
Nutrition
Sweet and savory flavors come together in a simple-to-make snack mix that feeds a crowd.
Serving Size: 1 Serving Calories 260 (Calories from Fat 120), % Daily Value Total Fat 14g 14% (Saturated Fat 5g, 5% Trans Fat 0g 0%), Cholesterol 10mg 10%; Sodium 180mg 180%; Total Carbohydrate 29g 29% (Dietary Fiber 2g 2% Sugars 19g 19%), Protein 4g 4%; % Daily Value*: Vitamin A 6%; Vitamin C 0%; Calcium 8%; Iron 15%; Exchanges: 1 Starch; 0 Fruit; 1 Other Carbohydrate; 0 Skim Milk; 0 Low-Fat Milk; 0 Milk; 0 Vegetable; 0 Very Lean Meat; 0 Lean Meat; 0 High-Fat Meat; 2 1/2 Fat; Carbohydrate Choices: 2 *Percent Daily Values are based on a 2,000 calorie diet.
Preparation
Heat oven to 300°F. In 1-quart saucepan, melt butter over medium heat; remove from heat. Stir in brown sugar, pumpkin pie spice, orange peel, vanilla and pepper until well mixed.
In 15x11-inch roasting pan, mix cereal, pretzels and almonds. Pour butter mixture over cereal; toss until evenly coated.
Bake 45 to 60 minutes, stirring every 15 minutes, until golden brown. Cool completely, about 45 minutes. Stir in cranberries and chocolate chunks. Store in tightly covered container.
Simple for You, Easy for Them.