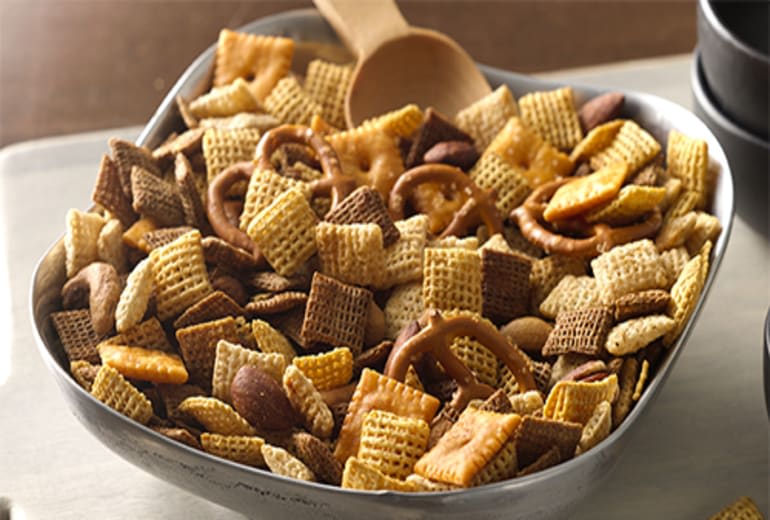 Hot and Spicy Chex™ Party Mix
Bring a spicy kick to your next party with the addition of red pepper sauce and cheese crackers to the classic Original Chex® Party Mix!
Ingredients
3 cups Corn Chex™ cereal
3 cups Tice Chex™ cereal
3 cups Wheat Chex™ cereal
1 cup mixed nuts
1 cup pretzels
1 cup bite-size cheese crackers
¼ cup butter or margarine
1 tablespoon Worcestershire sauce
1 ¼ teaspoons seasoned salt
2 to 3 teaspoons red pepper sauce
Nutrition
1 Serving: Calories nc (Calories from Fat nc); Total Fat nc (Saturated Fat nc, Trans Fat nc); Cholesterol nc; Sodium nc; Potassium nc; Total Carbohydrate nc (Dietary Fiber nc); Protein nc
% Daily Value: Vitamin A nc; Vitamin C nc; Calcium nc; Iron nc
Exchanges: nc
Carbohydrate Choices:
Preparation
In large microwavable bowl, mix cereals, nuts, pretzels and crackers; set aside. In small microwavable bowl, microwave butter uncovered on High about 40 seconds or until melted. Stir in Worcestershire sauce, seasoned salt and red pepper sauce. Pour over cereal mixture; stir until evenly coated.
Microwave uncovered on High 5 to 6 minutes, thoroughly stirring every 2 minutes. Spread on paper towels to cool. Store in airtight container.
Simple for You, Easy for Them.