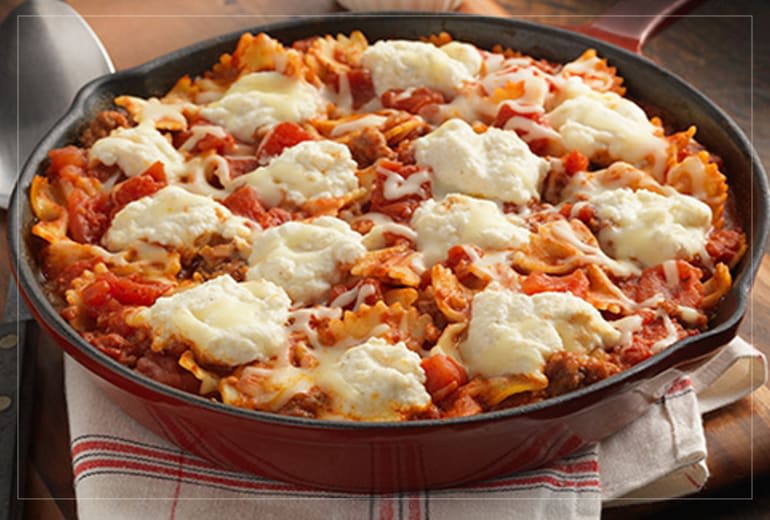 Hunt's® 'Classic' Skillet Lasagna
Ingredients
8 oz dry bowtie (farfalle) pasta, uncooked
1 cup part-skim ricotta cheese
1/3 cup grated Parmesan cheese
2 tablespoons water
1/4 teaspoon ground black pepper
12 oz Italian pork sausage
1/3 cup chopped yellow onion
2 cans (14.5 oz each) or 1 can (28 oz) Hunt's® Diced Tomatoes with Basil, Garlic and Oregano, undrained
1 can (6 oz each) Hunt's® Tomato Paste
1 ½ cups shredded part-skim mozzarella cheese, divided
Nutrition
1 Serving: Calories 487; Total Fat 18g (Saturated Fat 8g), Cholesterol 63mg; Sodium 976mg; Total Carbohydrate 49g (Dietary Fiber 6g, Sugars 11g); Protein 28g
% Daily Value: Vitamin A 21%; Vitamin C 27%; Calcium 41%; Iron 21%
*Percent Daily Values are based on a 2,000 calorie diet.
Preparation
Cook pasta according to package directions, omitting salt. Meanwhile, combine ricotta cheese, Parmesan cheese, water and pepper in small bowl; set aside.
Heat large skillet over medium-high heat. Add sausage and onion; cook 3 to 5 minutes or until sausage is crumbled and onion is tender, stirring occasionally. Drain. Add undrained tomatoes, tomato paste, 3/4 cup mozzarella cheese and cooked pasta to skillet; stir to combine.
Dollop spoonfuls of ricotta mixture on top of pasta mixture. Sprinkle with remaining mozzarella cheese. Reduce heat to low; cover and cook 2 to 3 minutes or until ricotta mixture is hot and mozzarella cheese melts.
Simple for You, Easy for Them.