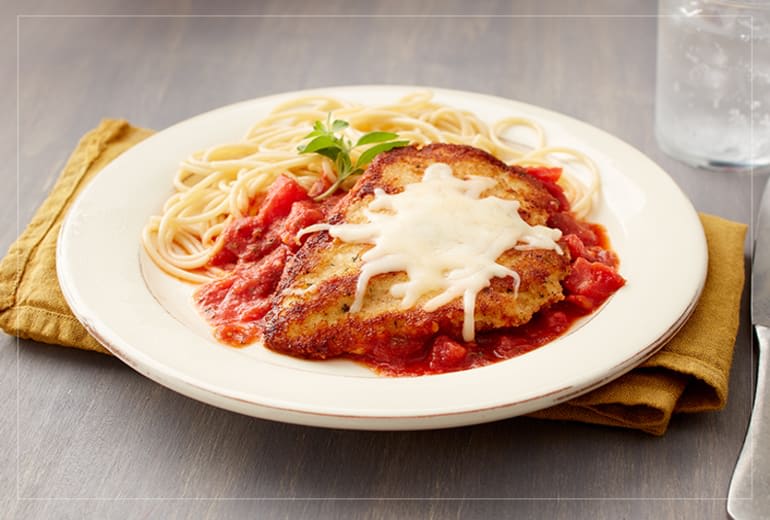 Italian Chicken Parmigiana
Ingredients
4 boneless skinless chicken breast halves (about 1 1/4lb)
1/3 cup Progresso™ Italian-style dry bread crumbs
1/3 cup grated Parmesan cheese
1 egg
2 tablespoons olive or Wesson® vegetable oil
1 cup Hunt's® tomato sauce (from a 28 oz can)
1 cup Hunt's® diced tomatoes, drained (from a 14.5 oz can)
1 teaspoon Italian seasoning
1/4 teaspoon garlic powder
1 tablespoon balsamic vinegar
1/2 cup shredded mozzarella cheese (2 oz)
Nutrition
1 Serving: Calories 440 (Calories from Fat 190); Total Fat 21g, (Saturated Fat 6g, Trans Fat nc); Cholesterol 140mg; Sodium 980mg; Potassium nc; Total Carbohydrate 31g (Dietary Fiver 2g); Protein 38g
%Daily Value: Vitamin 0%; Vitamin C 0%; Calcium 0%; Iron 14%
Exchanges: 2 Starch, 4 Lean Meat
*Percent Daily Values are based on a 2,000 calorie diet.
Preparation
Between sheets of plastic wrap or waxed paper, flatten each chicken breast half to ¼ inch thickness. In shallow dish, mix bread crumbs and Parmesan cheese. In another shallow dish, beat egg. Dip chicken into egg, then coat with bread crumb mixture. In medium bowl mix tomato sauce, diced tomatoes, Italian seasoning, garlic powder and balsamic vinegar.
In 12-inch nonstick skillet, heat oil over medium heat. Cook chicken in oil 10 to 15 minutes or until thoroughly cooked and 165°F, turning once, until no longer pink in center. Pour pasta sauce mixture around chicken in skillet; heat until hot. Sprinkle mozzarella cheese over chicken.
Recipe Video
Italian Chicken Parmigiana
Simple for You, Easy for Them.