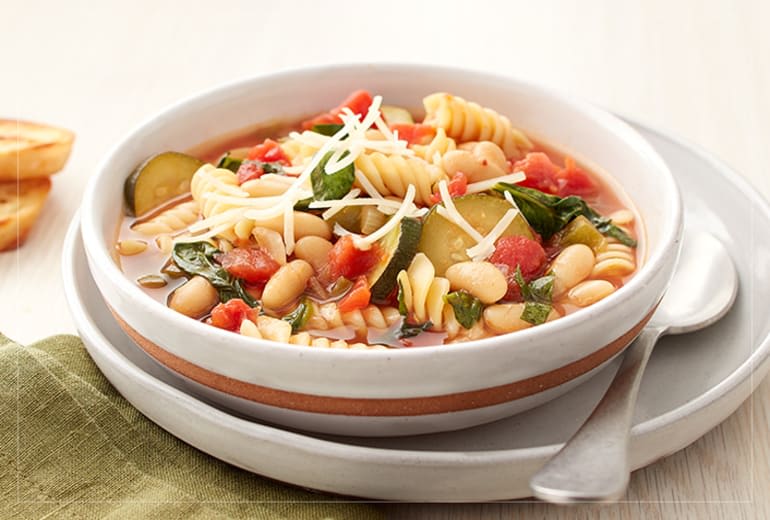 Italian Pasta-Bean Soup
Bring fabulous Italian flavors to your dinner table with this soup that's loaded with pasta, beans, tomatoes and chicken broth.
Skip to Recipe Video
Ingredients
1 teaspoon extra-virgin olive oil
1 cup chopped green bell pepper (1 large)
1 cup chopped onion
1 cup sliced zucchini (1 medium)
1/4 teaspoon crushed red pepper flakes
1/4 teaspoon salt
1 cup uncooked rotini pasta (3 oz)
1 can (14.5 oz) Hunts® Petite diced tomatoes, undrained
1 can (19 oz) Progresso™ cannellini white kidney beans, drained, rinsed
2 ½ cups Progresso™ reduced sodium chicken broth (from 32 oz carton)
1 cup packed fresh spinach leaves
2 tablespoons chopped fresh basil leaves
1/4 cup shredded Parmesan cheese (1 oz)
Nutrition
1 Serving: Calories 230 (Calories from Fat 30); Total Fat 3g (Saturated Fat 1g); Cholesterol 0mg; Sodium 800mg; Total Carbohydrate 37g (Dietary Fiber 8g); Protein 12g
% Daily Value: Vitamin A 25%; Vitamin C 35%; Calcium 15%; Iron 15%
Exchanges: 2 Starch, 1 Vegetable, 1/2 Very Lean Meat, 1/2 Fat
Carbohydrate Choices: 2 1/2
*Percent Daily Values are based on a 2,000 calorie diet.
Preparation
In 4-quart Dutch oven or saucepan, heat oil over medium-high heat. Add bell pepper, onion, zucchini, pepper flakes and salt. Cook 3 to 5 minutes, stirring occasionally, until crisp-tender.
Stir in pasta, tomatoes, beans and broth. Heat to boiling. Reduce heat; simmer uncovered 12 to 15 minutes, stirring occasionally, until pasta is tender. Add spinach and basil; cook uncovered 3 minutes. Serve with Parmesan cheese.
Recipe Video
Italian Pasta-Bean Soup
Simple for You, Easy for Them.