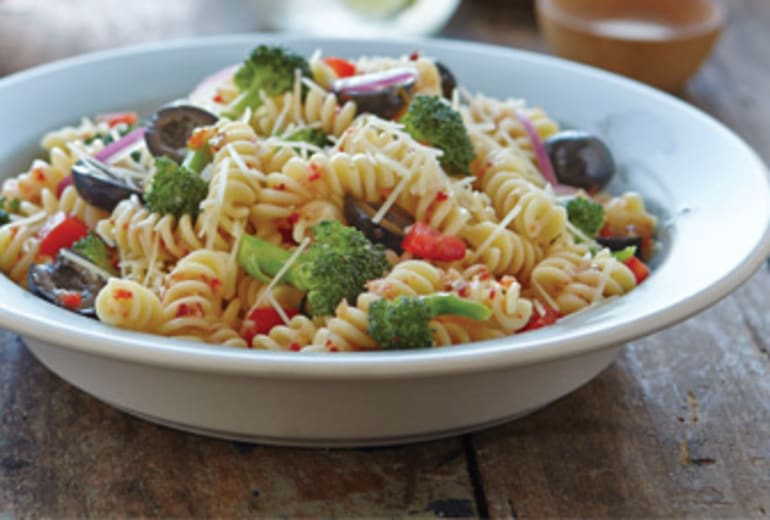 Italian Pasta Salad
Ingredients
3 cups Mueller's® rotini pasta, cooked
2 cups small broccoli
½ cup KRAFT™ Grated Parmesan Cheese
½ cup chopped red peppers
½ cup pitted black olives
1 cup KRAFT™ Zesty Italian Dressing
Nutrition
Serving Size: 8 servings, about 1cup each AMOUNT PER SERVING Calories 230 % Daily Value: Total Fat 9g; Saturated Fat 2g; Cholesterol 5mg; Sodium 500mg; Carbohydrate 29g, Dietary fiber 2g; Sugars 4g, Protein 8g; Vitamin A 20% DV, Vitamin C 50% DV, Calcium 10% DV, Iron 10% DV
*Nutritional information is estimate based on the ingredients and cooking instructions as described in each recipe and is intended to be used for informational purposed only. Please note that nutrition details may vary based on methods of preparation, origin and freshness of ingredients used.
Preparation
Combine all ingredients except dressing in large bowl.
Add dressing; mix lightly.
Refrigerate several hours.
Simple for You, Easy for Them.