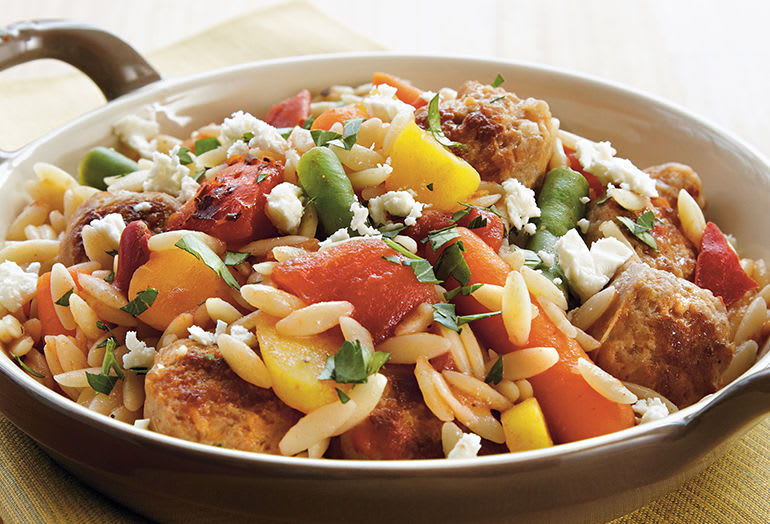 Italian Sausage and Orzo Skillet
Here's a delicious Italian skillet dinner that features orzo, pork sausage, vegetables and Muir Glen™ tomatoes—ready in 40 minutes.
Ingredients
1 cup uncooked orzo or rosamarina pasta (6.5 oz)
1 lb Italian pork sausage links, cut into 3/4-inch slices
1 teaspoon vegetable oil
4 oz green beans, cut in 1-inch pieces (about 1 cup)
3/4 cup yellow bell pepper strips
1/2 cup peeled baby carrots, cut in half lengthwise
1/4 teaspoon salt
2 tablespoons water
1 can (14.5 oz) Muir Glen™ organic fire roasted diced tomatoes, undrained
3/4 cup crumbled feta cheese (3 oz)
Chopped fresh parsley, if desired
Nutrition
1 1/3 Cups Calories 340  (Calories from Fat 170);  Total Fat 18g  (Saturated Fat 7g,  Trans Fat 0g); Cholesterol 65mg;  Sodium 820mg;  Total Carbohydrate 25g  (Dietary Fiber 2g,  Sugars 4g);  Protein 18g
% Daily Value: Vitamin A  40%;  Vitamin C  20%;  Calcium 15%;  Iron  10%;
Exchanges: 1 1/2 Starch, 1/2 Vegetable, 1 1/2 High-Fat Meat, 1 Fat
Carbohydrate Choice: 1.5
Trademarks referred to herein are the properties of their respective owners.
There are two kinds of Italian sausage—sweet and hot. Either one would be a good choice in this dish.
Preparation
Cook and drain pasta as directed on package.
In 10-inch nonstick skillet, cook sausage over medium-high heat 7 to 9 minutes, stirring occasionally, until no longer pink and thoroughly cooked. Transfer to plate. In same skillet, heat oil over medium heat. Add beans, bell peppers, carrots and salt; stir 1 minute to coat vegetables. Add water. Cover; reduce heat to low, and cook 5 to 6 minutes or until vegetables are crisp-tender.
Remove cover; stir in tomatoes, sausage and cooked pasta. Increase heat to medium; cook 3 to 4 minutes or until completely heated through. Garnish with cheese and parsley.
Simple for You, Easy for Them.