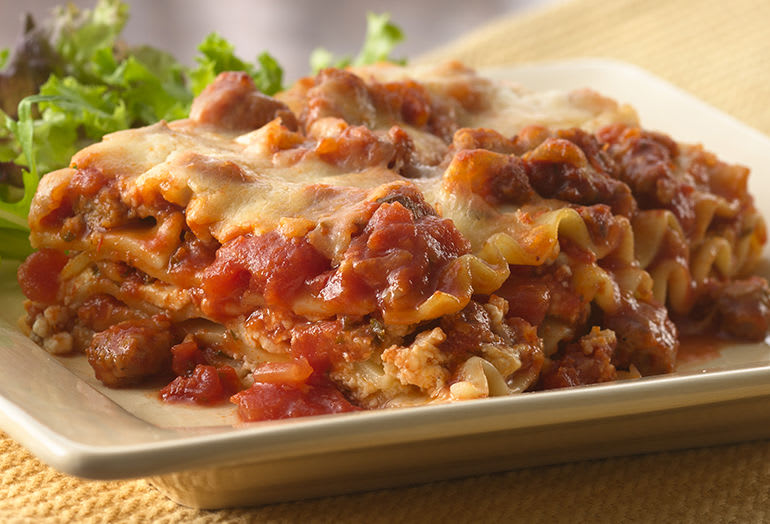 Italian Sausage Lasagna
No need to buy frozen lasagna when you have this much-loved recipe on hand.
Ingredients
1 lb bulk Italian pork sausage
1 medium onion, chopped (1/2 cup)
1 clove garlic, crushed
3 tablespoons chopped fresh parsley
1 tablespoon chopped fresh basil leaves or 1 teaspoon dried basil leaves
1 teaspoon sugar
2 cups Muir Glen™ organic diced tomatoes (from 28-oz can), undrained
1 can (15 oz) Muir Glen™ organic tomato sauce
12 uncooked lasagna noodles (12 oz)
1 container (15 oz) ricotta cheese or small-curd cottage cheese (2 cups)
1/4 cup grated Parmesan cheese
1 tablespoon chopped fresh oregano leaves or 1 1/2 teaspoons dried oregano leaves
2 cups shredded mozzarella cheese (8 oz)
1/4 cup grated Parmesan cheese
Nutrition
1 Serving Calories 465  (Calories from Fat 205);  Total Fat 23g  (Saturated Fat 11g,  Trans Fat nc); Cholesterol 70mg;  Sodium 1120mg;  Total Carbohydrate 36g  (Dietary Fiber 3g,  Sugars nc);  Protein 31g
% Daily Value: Vitamin A  28 %;  Vitamin C  16 %;  Calcium 50 %;  Iron  16 %;
Exchanges: 2  Starch, 1  Vegetable, 3  High-Fat Meat,
Carbohydrate Choice: nc
Preparation
In 10-inch skillet, cook sausage, onion and garlic over medium heat, stirring occasionally, until sausage is no longer pink; drain.
Stir in 2 tablespoons of the parsley, the basil, sugar, tomatoes and tomato sauce. Heat to boiling, stirring occasionally. Reduce heat to low; simmer uncovered about 45 minutes or until slightly thickened.
Heat oven to 350°F. Cook and drain noodles as directed on package.
In medium bowl, mix ricotta cheese, 1/4 cup Parmesan cheese, remaining 1 tablespoon parsley and the oregano.
Spread 1 cup of the sauce mixture in ungreased 13x9-inch (3-quart) glass baking dish. Top with 4 noodles. Spread 1 cup of the cheese mixture over noodles; spread with 1 cup of the sauce mixture. Sprinkle with 2/3 cup of the mozzarella cheese. Repeat with 4 noodles, the remaining cheese mixture, 1 cup of the sauce mixture and 2/3 cup of the mozzarella cheese. Top with remaining noodles and sauce mixture. Sprinkle with remaining mozzarella cheese and 1/4 cup Parmesan cheese.
Cover; bake 30 minutes. Uncover; bake about 15 minutes longer or until hot and bubbly. Let stand 15 minutes before cutting.
Simple for You, Easy for Them.
Storage tip: Leftover lasagna freezes well. Wrap individual portions tightly in plastic wrap, then wrap again with aluminum foil. You need only unwrap and thoroughly reheat to enjoy an instant lasagna fix!
Time Saver: Put this recipe together lickety-split using 5 cups (40 ounces) of your favorite regular (do not use thick or extra-thick varieties) spaghetti sauce with meat instead of the first eight ingredients.
Substitution: If your family likes lasagna with a milder flavor, use ground beef instead of the bulk Italian sausage.
Lasagna is one of the oldest types of pasta. It's an Italian classic that consists of layered noodles, cheese, sauce and meat. Identical to the recipe included in the 1995 edition of the Betty Crocker™ Cookbook, this lasagna continues to be a favorite and is often requested. Though the classic lasagna includes ricotta and Italian sausage, there are many creative twists on the tradition and different techniques to making it. The original lasagna recipe is said to have used béchamel sauce—a favorite ingredient still used today in classic lasagna recipes. Béchamel sauce is a simple white sauce made with just five ingredients. However you decide to make it, this family-favorite dish can be prepped ahead of time and refrigerated for up to 24 hours or frozen for up to two months. Our step-by-step lasagna tutorial makes this classic recipe easy to master so you can add it to your regular dinner routine.