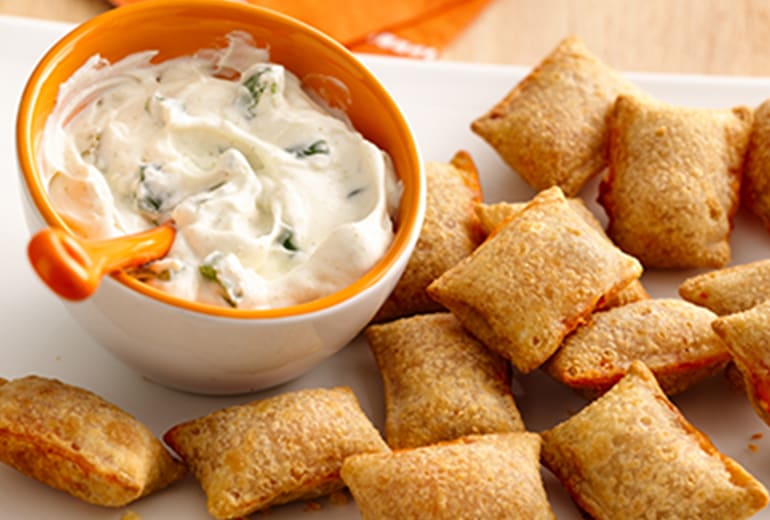 Jalapeño Popper Dip and Pizza Rolls®
This dip adds a fun familiar flavor that enhances Totino's® pizza snacks!
Ingredients
Dip
1 package (8 oz) cream cheese, softened
1/4 cup milk
3 tbsp finely chopped fresh jalapeño chiles
1/2 tsp ground cumin
For Dipping
20 Totino's® Pizza Rolls® frozen pepperoni or cheese pizza snacks
Nutrition
1 Serving: Calories 160 (Calories from Fat 100), Total Fat 12g (Saturated Fat 5g, Trans Fat 1/2g), Cholesterol 30mg; Sodium 260mg; Total Carbohydrate 9g (Dietary Fiber 0g, Sugars 2g), Protein 4g
Exchanges: 1/2 Other Carbohydrate; 1/2 High-Fat Meat; 1 1/2 Fat; Carbohydrate Choices: 1/2
Preparation
In small bowl, beat cream cheese and milk with whisk or fork. Stir in jalapeño chiles and cumin. Cover; refrigerate 1 hour to blend flavors.
Bake pizza snacks as directed on package. Serve with dip.
Recipe Tips
Substitute 2 tablespoons (or more if you like) pickled jalapeño slices for the fresh jalapeño chiles.
Simple for You, Easy for Them.