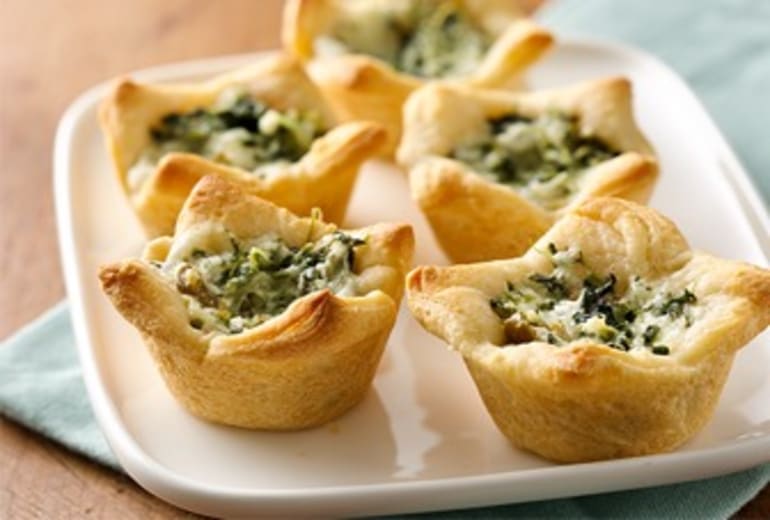 Kickin Spinach Cheese Bites
Triple cheesy-spinach crescent bites boast a just right jalapeño kick.
Ingredients
1 box (9 oz) frozen chopped spinach
1 package (8 oz) Philadelphia® cream cheese, softened
1/4 cup ricotta cheese
6 oz provolone cheese, shredded (1 1/2 cups)
1/4 cup finely chopped pickled jalapeño slices, drained (from 11.5-oz jar)
2 cans Pillsbury™ refrigerated Crescent Dough Sheet
Nutrition
1 Serving: Calories 60; Total Fat 4g; (Saturated Fat 2g, Trans Fat 0g); Cholesterol 10mg; Sodium 135mg; Potassium 25mg; Total Carbohydrate 5g; (Dietary Fiber 0g); Sugars 0g; Protein 2g
% Daily Value: Vitamin A 10%; Vitamin C 0%; Calcium 4%; Iron 0%
*Percent Daily Values are based on a 2,000 calorie diet.
Preparation
® Original No-Stick Cooking Spray. Microwave frozen spinach as directed on box. Squeeze dry with paper towels.
Heat oven to 375°F. Lightly spray 48 nonstick mini muffin cups with Crisco
In medium bowl, beat cream cheese and ricotta cheese with electric mixer on medium speed until well blended. Stir in spinach, shredded cheese and jalapeños until well blended.
Unroll 1 dough sheet; press into 12x8-inch rectangle. Cut dough sheet into 24 squares. Press 1 square in bottom and up side of each mini muffin cup. Spoon 1 rounded teaspoon spinach mixture into each cup. Repeat with remaining dough sheet and filling.
Bake 8 to 12 minutes or until edges of dough are golden brown. Immediately remove from pan to serving platter. Cool 5 minutes. Serve warm.
Recipe Tips
Skip a step! Buy jarred or frozen spinach-artichoke dip for the filling instead of making your own.
Simple for You, Easy for Them.