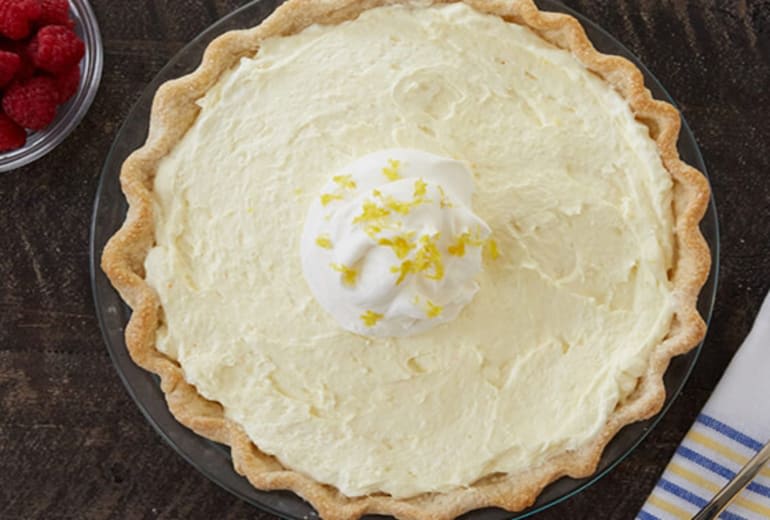 Lemon Cream Pie
Try a cool and creamy pie that's lovely enough for a holiday dessert, but so easy, you'll be tempted to make it for a weeknight treat.
Ingredients
1 box Pillsbury™ refrigerated pie crusts, softened as directed on box
1 package (8 oz) cream cheese, softened
1 cup milk
1 box (4-serving size) lemon instant pudding and pie filling mix
½ cup lemon pie filling (from 15.75-oz can)
1 container (8 oz) frozen (thawed) whipped topping
Small, round multi-colored candies, if desired
Nutrition
1 Serving: Calories 360 (Calories from Fat 200); Total Fat 22g; (Saturated Fat 13g, Trans Fat 0g); Cholesterol 35mg; Sodium 470mg; Potassium 115mg; Total Carbohydrate 37g; (Dietary Fiber 0g); Sugars 19g; Protein 4g
% Daily Value: Vitamin A 8%; Vitamin C 0%; Calcium 10%; Iron 0%
Exchanges: 1 Starch; 0 Fruit; 1 1/2 Other Carbohydrate; 0 Skim Milk; 0 Low-Fat Milk; 0 Milk; 0 Vegetable; 0 Very Lean Meat; 0 Lean Meat; 0 High-Fat Meat; 4 1/2 Fat;
*Percent Daily Values are based on a 2,000 calorie diet.
Preparation
Heat oven to 450°F. Make pie crust as directed on box for One-Crust Baked Shell using 9-inch glass pie plate. Bake 9 to 11 minutes or until lightly browned. Cool completely, about 15 minutes.
In medium bowl, cream cheese with electric mixer on medium speed about 30 seconds or until creamy. Gradually beat in milk until well blended. Add pudding mix; beat about 30 seconds or until smooth. On low speed, beat in pie filling just until blended. Fold 2 1/4 cups whipped topping into pudding mixture.
Spoon pudding mixture into cooled baked shell. Refrigerate pie at least 2 hours or until set. Pipe or spoon whipped topping on top of pie as desired. Sprinkle with candies. To serve, cut into wedges.
Recipe Tips
For a smooth filling, use a rubber spatula to fold in the whipped topping.
Simple for You, Easy for Them.