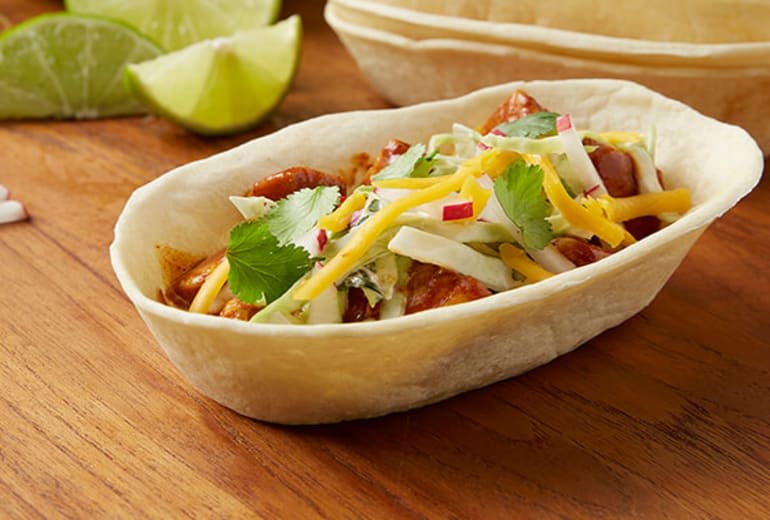 Lime and Lager Chicken Tacos
These adult chicken tacos get a little extra flavor by simmering the chicken with Dos Equis™ lager especial beer and Old El Paso™ taco seasoning mix. Top these tacos with a fresh creamy cilantro-lime slaw and crunchy radishes.
Ingredients
2 cups thinly sliced green cabbage
2 tablespoons mayonnaise
2 tablespoons sour cream
2 tablespoons chopped green onions
1 tablespoon finely chopped fresh cilantro
⅛ teaspoon garlic powder
⅛ teaspoon salt
1 tablespoon vegetable oil
1 lb boneless skinless chicken breasts, cut into 1-inch cubes
1 Old El Paso™ soft tortilla taco bowls dinner kit
½ cup Dos Equis™ lager especial beer
1 cup shredded Cheddar cheese (4 oz)
2 radishes, thinly sliced and cut into strips
8 lime wedges
Nutrition
1 Taco: Calories 280 (Calories from Fat 130); Total Fat 15g (Saturated Fat 5g, Trans Fat 0g); Cholesterol 55mg; Sodium 610mg; Total Carbohydrate 18g (Dietary Fiber 1g, Sugars 2g); Protein 18g
% Daily Value: Vitamin A 6%; Vitamin C 8%; Calcium 15%; Iron 10%;
Exchanges: 1/2 Starch, 1/2 Other Carbohydrate, 1/2 Vegetable, 1 1/2 Very Lean Meat, 1/2 High-Fat Meat, 2 Fat
Carbohydrate Choice: 1
Preparation
In medium bowl, stir Slaw ingredients until completely blended. Refrigerate slaw 30 minutes; stir well.
Meanwhile, in 10-inch skillet, heat oil over medium-high heat. Add chicken; cook 8 to 9 minutes, turning occasionally, until no longer pink in center. Add taco seasoning mix (from kit) and beer; stir to combine. Cook 3 to 4 minutes or until slightly thickened.
Heat tortilla bowls (from kit) as directed on package. To assemble, divide chicken among tortilla bowls; top with cheese, slaw and radishes. Serve with lime wedges and taco sauce (from kit), as desired.
Recipe Tips
Use purchased shredded cabbage if you are short on prep time.
Pair these tacos with more Dos Equis™ lager especial beer for a mouth-pleasing meal!
Simple for You, Easy for Them.