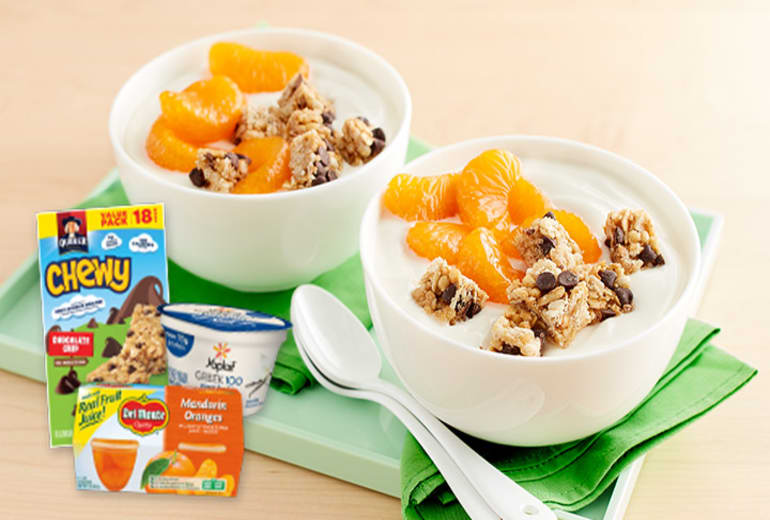 Mandarin Orange Granola Yogurt Bowls
The mango peach juice in this Mandarin orange yogurt bowl adds an extra punch of flavor for any breakfast.
Ingredients
2 containers (5.3 oz each) Yoplait™ Greek 100 protein vanilla yogurt
1/4 cup V8 Splash® mango peach juice (from 64 oz bottle)
1 container (4 oz) Del Monte® Mandarin oranges, drained (from 1 lb package)
2 bars (.84 oz each) Quaker® chewy chocolate chip granola bar, chopped (from 15.3 oz box)
Preparation
In 1-quart bowl, stir yogurt and mango peach juice with a wire whisk until well blended.
Divide yogurt mixture between 2 serving bowls. Top each with half of the Mandarin orange slices and half of the chopped granola bars. Serve immediately.
Recipe Tips
Substitute any of your favorite Quaker® chewy granola bars for the chocolate chip bars in this recipe.
• Yogurt mixture yield = 1 1/3 cups
• 6 mandarin orange slices / each bowl
• About 1/4 cup of chopped granola bars / bowl
Simple for You, Easy for Them.