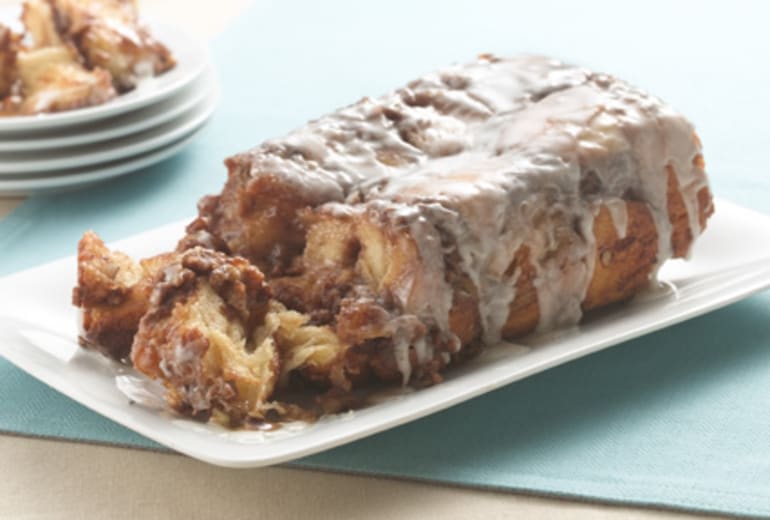 Maple-Cinnamon Pecan Pull-Aparts
Ingredients
1/2 cup chopped pecans
1/3 cup packed brown sugar
2 tablespoons butter or margarine, melted
1/4 cup sour cream
1 teaspoon maple flavor or vanilla
1 can (17.5 oz) Pillsbury™ Grands!™ Flaky Supreme refrigerated cinnamon rolls with icing
Nutrition
Serving Size: 1 Serving
Calories 240 Calories from Fat 130 % Daily Value Total Fat 14g 22% Saturated Fat 4g 21% Trans Fat 2g 2% Cholesterol 10mg 3% Sodium 280mg 12% Total Carbohydrate 27g 9% Dietary Fiber 0g 0% Sugars 15g 15% Protein 2g 2% % Daily Value*: Vitamin A 0% 0% Vitamin C 0% 0% Calcium 2% 2% Iron 4% 4% Exchanges: 1 Starch; 0 Fruit; 1 Other Carbohydrate; 0 Skim Milk; 0 Low-Fat Milk; 0 Milk; 0 Vegetable; 0 Very Lean Meat; 0 Lean Meat; 0 High-Fat Meat; 2 1/2 Fat; Carbohydrate Choice 2
*Percent Daily Values are based on a 2,000 calorie diet.
Preparation
Heat oven to 350°F. Spray 8x4-inch loaf pan with cooking spray. In large bowl, mix all ingredients except cinnamon rolls with icing.
Separate dough into 5 rolls; set icing aside. Cut each roll into quarters; add to pecan mixture, tossing gently to coat. Spoon roll mixture into pan.
Bake 45 to 50 minutes or until deep golden brown. Cool 10 minutes. Turn upside down onto serving plate or platter. Spread with icing. Serve warm.Pro Tip:Use a clean kitchen scissors to easily cut the cinnamon rolls into quarters.
Simple for You, Easy for Them.