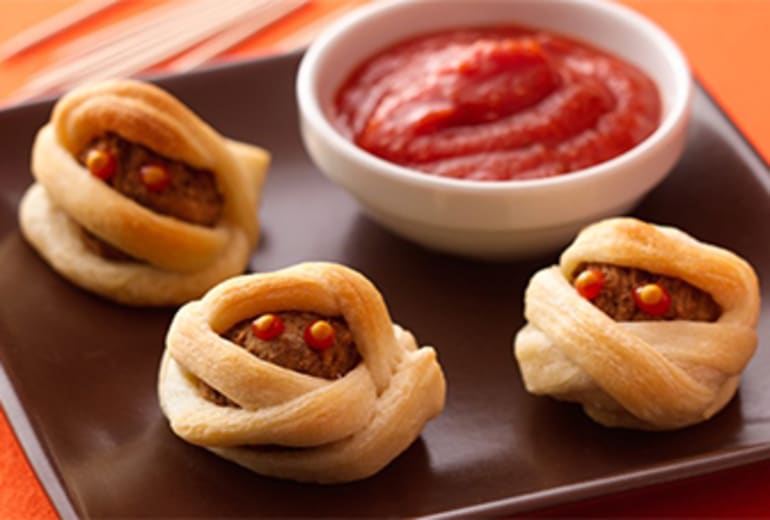 Meatball Mummy Crescent Bites
Ingredients
1 can (8 oz) Pillsbury™ refrigerated crescent dinner rolls or 1 can (8 oz) Pillsbury™ refrigerated Crescent Dough Sheet
20 frozen cooked meatballs, thawed
Ketchup, if desired
Mustard, if desired
Marinara sauce, as desired
Nutrition
These meatball mummy bites are the perfect kid-size appetizer. Great to serve at your next Halloween party!
Serving Size: 1 serving Calories 150, % Daily Value Total Fat 9g 13% (Saturated Fat 3 1/2g 17%, Trans Fat 0g 0%), Cholesterol 30mg 9%, Sodium 340mg 14%, Total Carbohydrate 12g 4%, (Dietary Fiber 0g 0%), Protein 6g 6%; % Daily Value*: Vitamin A 0%; Vitamin C 0%; Calcium 0%; Iron 6%; Exchanges: 1/2 Starch; 0 Fruit; 1/2 Other Carbohydrate; 0 Skim Milk; 0 Low-Fat Milk; 0 Milk; 0 Vegetable; 0 Very Lean Meat; 0 Lean Meat; 1/2 High-Fat Meat; 1 Fat;
*Percent Daily Values are based on a 2,000 calorie diet
Preparation
Heat oven to 375°F. Line work surface with cooking parchment paper. On parchment-lined surface, unroll dough (if using crescent roll dough, press perforations to seal); cut into 4 rectangles.
With knife or pizza cutter, cut each rectangle lengthwise into 10 pieces, making a total of 40 pieces of dough.
Wrap 2 pieces of dough around each meatball to look like "bandages," stretching dough slightly to cover meatballs.
Separate "bandages" near 1 end to show meatball "face." On ungreased large cookie sheet, place wrapped meatballs.
Bake 13 to 17 minutes or until dough is light golden brown and meatballs are hot. With ketchup and mustard, draw "eyes" on mummy bites. Serve with warm marinara sauce.
Simple for You, Easy for Them.