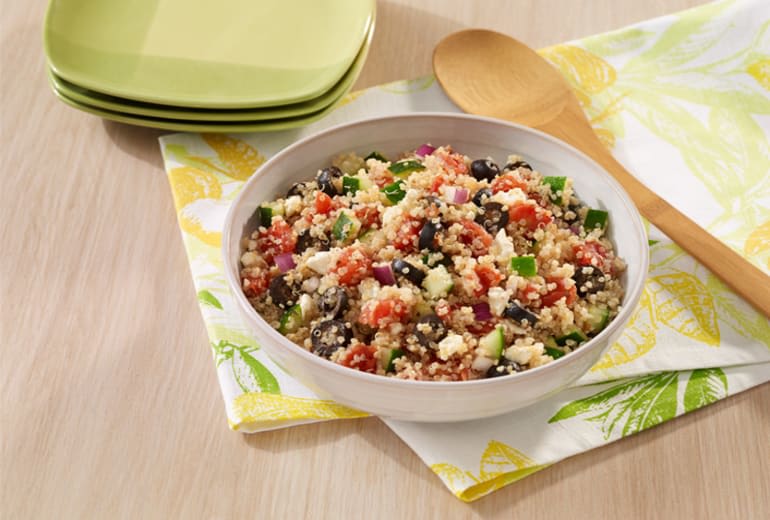 Mediterranean Quinoa Salad
A side dish recipe with quinoa, fresh cucumber, seasoned tomatoes, olives and feta cheese
Ingredients
1 cup white quinoa, uncooked
1/2 teaspoon salt
1 cup diced, seeded, unpeeled cucumber
1 can (14.5 oz each) Hunt's® Diced Tomatoes with Basil, Garlic and Oregano, drained
1 can (2.25 oz each) sliced ripe olives, drained
1/3 cup crumbled feta cheese
1/4 cup chopped red onion
Nutrition
1 Serving (1/2 cup): Calories 120; Total Fat 4g (Saturated Fat 1g); Cholesterol 6mg; Sodium 359mg; Total Carbohydrate 17g, Sugar 2g, (Dietary Fiber 3g); Protein 4g
% Daily Value: Vitamin A 3%; Vitamin C 7%; Calcium 6%; Iron 7%
*Percent Daily Values are based on a 2,000 calorie diet.
Preparation
Cook quinoa according to package directions, adding the salt.
Meanwhile, combine cucumber, drained tomatoes, olives, cheese and onion in large bowl; set aside.
Spread cooked quinoa in 13x9-inch baking dish. Cool slightly in refrigerator 5 minutes. Add quinoa to vegetable mixture; toss gently to combine. Serve immediately or refrigerate until cold.
Simple for You, Easy for Them.