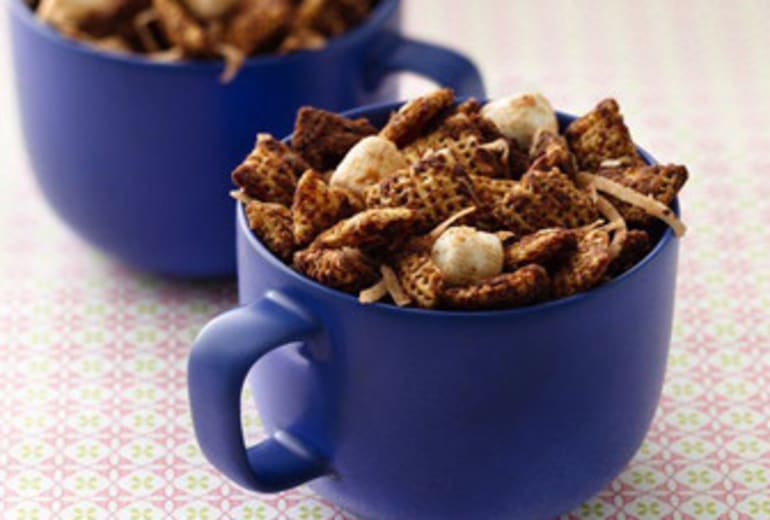 Mexican Hot Chocolate Chex™ Party Mix
Ingredients
2 cups Vanilla Chex™ cereal
2 cups Chocolate Chex™ cereal
2 cups Cinnamon Chex™ cereal
¼ cup butter or margarine
1 cup semisweet chocolate chips
¼ cup sweetened condensed milk
1 teaspoon ground cinnamon
1 cup flaked coconut
1 ½ cups mini marshmallows
Nutrition
Savor the flavors of Mexican Hot Chocolate any time of year in this dynamite party mix.
Serving Size: 1/2 cup Calories190 (Calories from Fat80), % Daily Value Total Fat 9g 9%(Saturated Fat 6g, 6% Trans Fat 0g 0%), Cholesterol 10mg 10%; Sodium 150mg 150%; Total Carbohydrate 24g24% (Dietary Fiber1g 1%Sugars 13g 13%), Protein 1g 1%; % Daily Value*: Vitamin A 8%; Vitamin C 2%; Calcium 8%; Iron 25%; Exchanges: 0 Starch; 0 Fruit; 1 1/2 Other Carbohydrate; 0 Skim Milk; 0 Low-Fat Milk; 0 Milk; 0 Vegetable; 0 Very Lean Meat; 0 Lean Meat; 0 High-Fat Meat; 2 Fat; Carbohydrate Choices: 1 ½ *Percent Daily Values are based on a 2,000 calorie diet.
Preparation
In large microwaveable bowl, measure cereal. Set aside
In 2-cup microwavable measuring cup, heat butter and chocolate chips on High 1 minute or until almost melted; stir and microwave another 30 seconds or until mixture can be stirred smooth; stir in condensed milk, heat 30 seconds or until boiling; stir in cinnamon. Pour over cereal mixture, stirring until evenly coated.
Microwave on High about 3 minutes, stirring every minute, until mixture is glazed. Stir in coconut and marshmallows. Pour onto waxed-paper lined pan to cool.
Simple for You, Easy for Them.