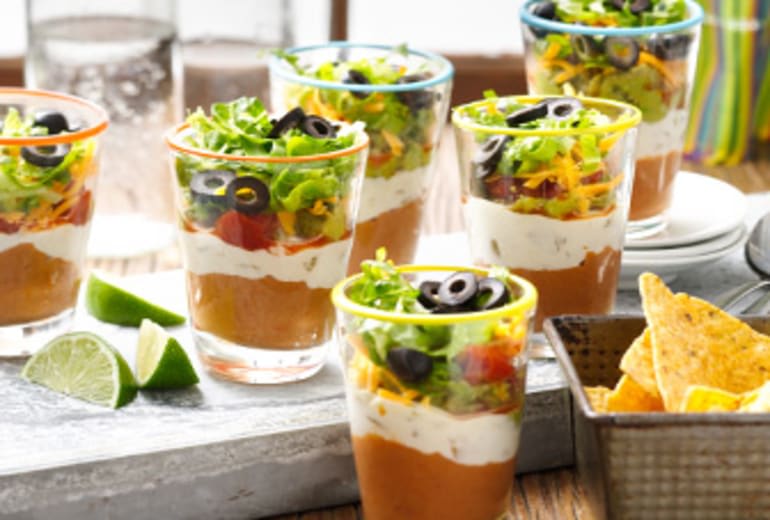 Mini 7 Layer Dips
Ingredients
1 can (16 oz) Old El PasoTM refried beans
2 tablespoons Old El PasoTM taco seasoning mix (from 1-oz package)
1 container (8 oz) BREAKSTONE'S sour cream
1 can (4.5 oz) Old El PasoTM chopped green chiles, drained
1 ¼ cups guacamole
1 ¼ cup chunky salsa (from 15.5-oz jar)
1 cup (4 oz.) shredded KRAFT Cheddar or Colby-Monterey Jack cheese blend
1 cup shredded lettuce
2 tablespoons sliced ripe olives
Nutrition
1 serving Calories 170 (Calories from Fat 90), Total Fat 10g (Saturated Fat 5g, Trans Fat 0g), Cholesterol 25mg, Sodium 810 mg, Total Carbohydrate 13g (Dietary Fiber 3g, Sugars 1g), Protein 6g
% Daily Value*: Vitamin A 15%; Vitamin C 10%; Calcium 10%; Iron 14%
Exchanges: 1 Starch; 0 Fruit; 0 Other Carbohydrate; 0 Skim Milk; 0 Low-Fat Milk; 0 Milk; 0 Vegetable; 0 Very Lean Meat; 0 Lean Meat; 0 High-Fat Meat; 2 Fat
Carbohydrate Choices: 1
*Percent Daily Values are based on a 2,000 calorie diet
Preparation
In a small bowl, mix refried beans and 2 tablespoons taco seasoning mix. Spread about 3 tablespoons mixture in bottom of each of the ten 6-oz custard cups or 9-oz clear plastic cups.
Mix sour cream and green chiles; divide evenly among cups (about 2 tablespoons per cup). Top each with about 2 tablespoons each guacamole and salsa, slightly less than 1 tablespoon each cheese and lettuce, and a few olive slices.
Recipe Tips
Save remaining taco seasoning mix for another use. This dip is delicious with veggies dipped in it as well; try celery, carrots, jicama, etc.
Simple for You, Easy for Them.