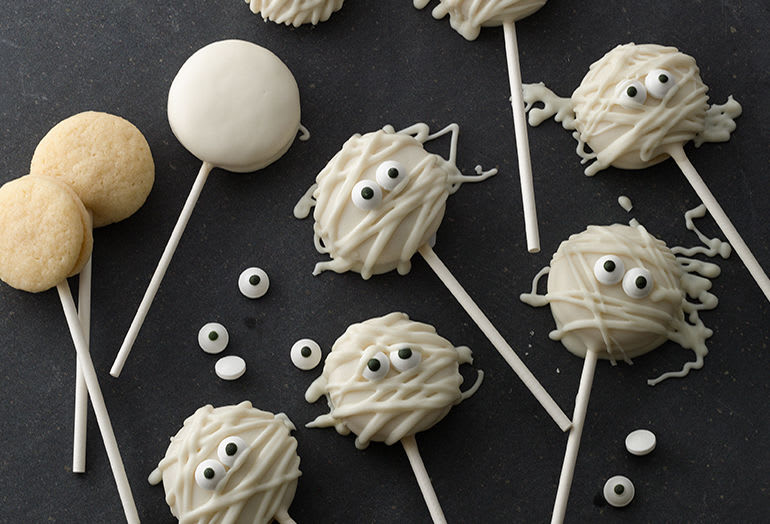 Mini Mummy Cookie Pops
These mini cookie pops are filled with peanut butter–the perfect size for snacking!
Ingredients
1 pouch Betty Crocker™ sugar cookie mix
Butter and egg called for on cookie mix pouch
1 cup creamy peanut butter
1 package (20 oz) vanilla-flavored candy coating (almond bark)
72 candy eyeballs
48 (4- to 6-inch long) paper lollipop sticks
Nutrition
1 Cookie Pop Calories 290  (Calories from Fat 200);  Total Fat 22g  (Saturated Fat 5g,  Trans Fat 0g); Cholesterol 195mg;  Sodium 370mg;  Total Carbohydrate 10g  (Dietary Fiber 2g,  Sugars 2g);  Protein 11g
% Daily Value: Vitamin A  30%;  Vitamin C  4%;  Calcium 6%;  Iron  10%;
Exchanges: 1/2 Other Carbohydrate, 1 Vegetable, 1 Medium-Fat Meat, 3 1/2 Fat
Carbohydrate Choice: 0.5
Add a little grape or strawberry jelly along with the peanut butter for a twist on a peanut butter and jelly sandwich!
Preparation
Heat oven to 350°F. Make cookie dough as directed on cookie mix pouch. Roll level teaspoons of dough between hands to form balls. Place balls 1 inch apart on ungreased cookie sheets. Press paper lollipop stick into half the cookies. Bake 8 to 10 minutes or until edges are golden brown. Cool on cookie sheets 5 minutes; cool completely on cooling rack, about 30 minutes.
Spread 1 teaspoon peanut butter on cookies with lollipop sticks; top with remaining cookies to make sandwiches.
Melt almond bark as directed on package in 2-cup glass measuring cup or microwavable bowl. Carefully dip each cookie sandwich into melted almond bark to coat completely. Cool completely on waxed paper, about 20 minutes.
Place remaining melted almond bark in resealable plastic food storage bag. Cut off one small corner. Drizzle melted almond bark over cookie sandwiches to look like mummy bandages. Press 2 candy eyeballs into each of the cookies. Cool completely, about 1 hour.
Simple for You, Easy for Them.