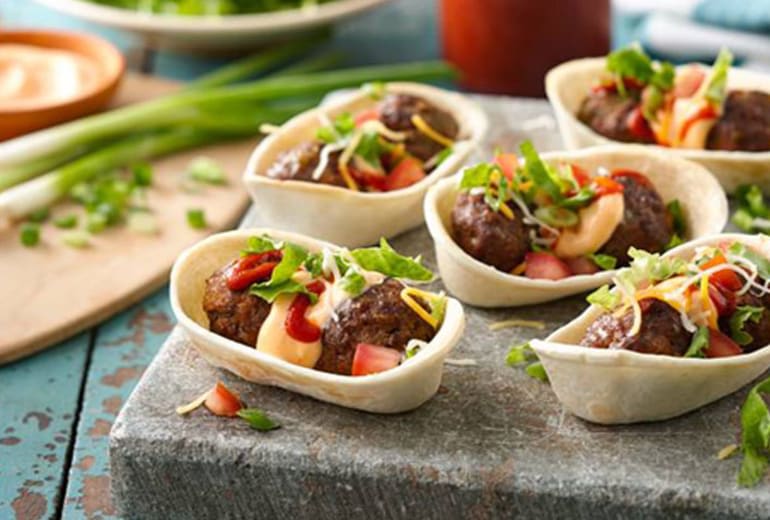 Mini Sriracha Meatball Boats
Ingredients
1 lb lean (at least 80%) ground beef
1 package (1 oz.) Old El PasoTM taco seasoning mix
2 tablespoons plus 1 teaspoon Sriracha sauce
1 can (4.5 oz.) Old El PasoTM chopped green chiles
½ cup mayonnaise
12 Old El PasoTM Taco BoatsTM mini Soft Flour Tortillas
Make it FRESH toppings, as desired (see Directions tab)
Nutrition
1 serving Calories 350 (Calories from Fat 230), Total Fat 25g (Saturated Fat 6g, Trans Fat ½g), Cholesterol 55mg, Sodium 600mg, Total Carbohydrate 16g (Dietary Fiber 0g, Sugars 2g), Protein 15g
% Daily Value*: Vitamin A 4%; Vitamin C 10%; Calcium 4%; Iron 10%
Exchanges: ½ Starch; 0 Fruit; ½ Other Carbohydrate; 0 Skim Milk; 0 Low-Fat Milk; 0 Milk; 0 Vegetable; 0 Very Lean Meat; 0 Lean Meat; 0 High-Fat Meat; 3 Fat
Carbohydrate Choices: 1
*Percent Daily Values are based on a 2,000 calorie diet
Preparation
Heat oven to 400° F. Line 15x10x1-in pan with foil; place wire rack in pan.
In medium bowl, stir together beef, taco seasoning mix, 2 tablespoons of the Sriracha sauce and the chiles. Shape mixture into 24 (1 ½-inch) balls; place on rack. Bake 18 to 20 minutes or until thoroughly cooked and no longer pink in center.
Meanwhile, in a small bowl, mix mayonnaise and remaining 1 teaspoon Sriracha sauce. Heat boats as directed on package. Fill each warmed boat with 2 meatballs and Sriracha mayonnaise. Serve with Make it FRESH toppings.
Recipe Tips
Ideas for Make it FRESH toppings: avocados, shredded lettuce, diced tomatoes, shredded cheese, sliced green onions.
Increase the Sriracha sauce for more heat!
Simple for You, Easy for Them.