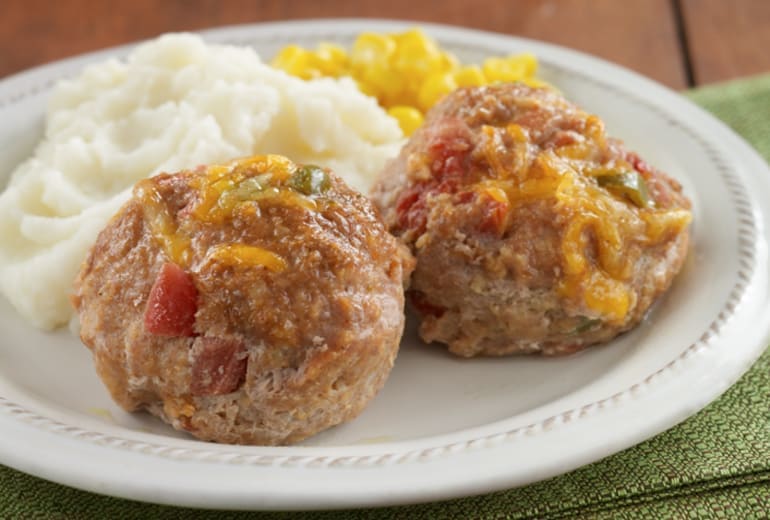 Mini Tex-Mex Turkey Meatloaves
Ground turkey combined with flavorful tomatoes and taco seasoning bakes quickly in mini loaves for a fast weeknight meal
Ingredients
1 package (20 oz) each lean ground turkey (93% lean)
1/4 cup Egg Beaters® Original
1/3 cup dry unseasoned bread crumbs
1 can (10 oz) each Ro*Tel® Original Diced Tomatoes & Green Chilies, drained, liquid reserved
2 tablespoons (1/2 of 1.25-oz package) 30% less sodium taco seasoning mix
1/4 cup finely shredded Mexican blend cheese
PAM® Original No-Stick Cooking Spray
Nutrition
1 Serving (2 Loaves): Calories 184; Total Fat 8g (Saturated Fat 2g); Cholesterol 59mg; Sodium 425mg; Total Carbohydrate 8g, Sugar 2g, (Dietary Fiber 1g); Protein 19g
% Daily Value: Vitamin A 9%; Vitamin C 3%; Calcium 8%; Iron 7%
*Percent Daily Values are based on a 2,000 calorie diet.
Preparation
Preheat oven to 400 °F. Spray 12 regular muffin cups with cooking spray.
Mix turkey, Egg Beaters, bread crumbs, drained tomatoes plus 1/4 cup reserved liquid and taco seasoning in medium bowl. Form into 12 balls (1/4 cup each) and place in muffin cups. Top each with 1 teaspoon cheese.
Bake 18 to 20 minutes or until browned and cooked through (170 °F).
Simple for You, Easy for Them.