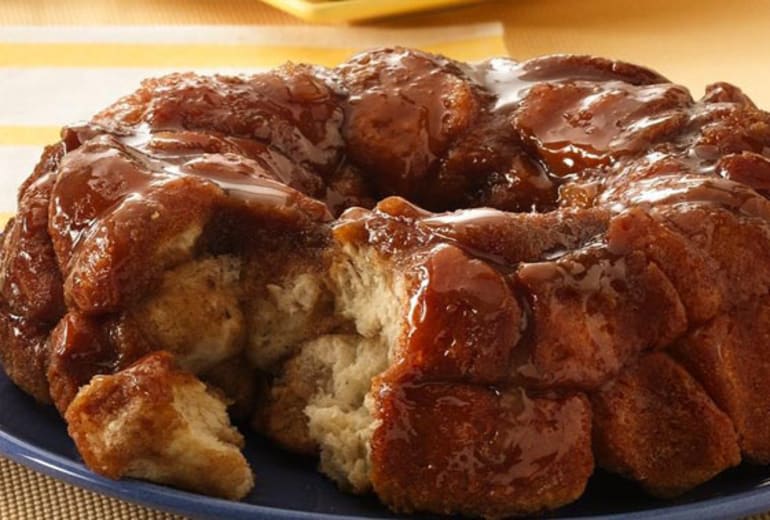 Grands!® Monkey Bread
Ingredients
1/2 cup granulated sugar
1 teaspoon cinnamon
2 cans (16.3 oz each) Pillsbury™ Grands!™ Flaky Layers refrigerated biscuits
1/2 cup chopped walnuts, if desired
1/2 cup raisins, if desired
1 cup firmly packed brown sugar
3/4 cup butter or margarine, melted
Nutrition
Serving Size: 1 Serving
Calories 450 Calories from Fat 200 Total Fat 22g 34% Saturated Fat 11g 56% Trans Fat 4 1/2g Cholesterol 30mg 10% Sodium 890mg 37% Total Carbohydrate 58g 19% Dietary Fiber 0g 0% Sugars 31g 31% Protein 5g 5% % Daily Value*: Vitamin A 8% Vitamin C 0% Calcium 4% Iron 15% Exchanges: 1 1/2 Starch; 0 Fruit; 2 1/2 Other Carbohydrate; 0 Skim Milk; 0 Low-Fat Milk; 0 Milk; 0 Vegetable; 0 Very Lean Meat; 0 Lean Meat; 0 High-Fat Meat; 4 Fat;
*Percent Daily Values are based on a 2,000 calorie diet.
Preparation
Heat oven to 350°F. Lightly grease 12-cup fluted tube pan with shortening or cooking spray. In large -storage plastic food bag, mix granulated sugar and cinnamon.
Separate dough into 16 biscuits; cut each into quarters. Shake in bag to coat. Arrange in pan, adding walnuts and raisins among the biscuit pieces.
In small bowl, mix brown sugar and butter; pour over biscuit pieces.
Bake 28 to 32 minutes or until golden brown and no longer doughy in center. Cool in pan 10 minutes. Turn upside down onto serving plate; pull apart to serve. Serve warm.
Simple for You, Easy for Them.