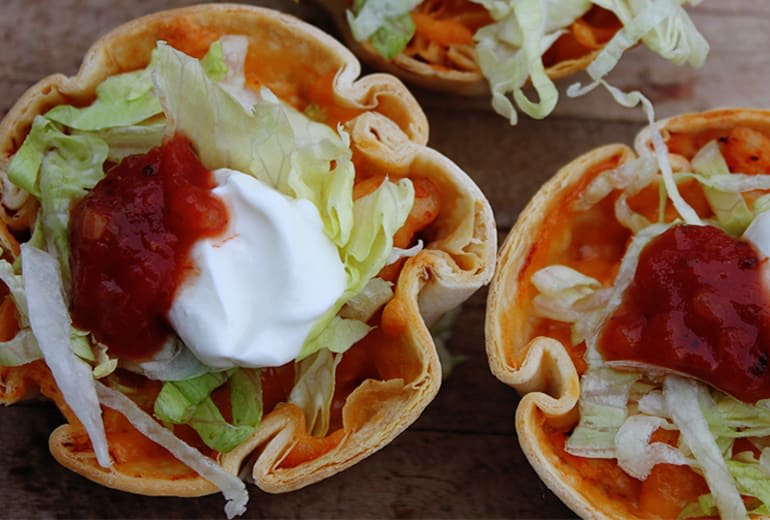 Muffin Tin Chicken Tacos
Break out your muffin tin for a new take on Taco Night!
Ingredients
6 Old El Paso™ flour tortillas for burritos (8 inch; from 11-oz package)
1 cup shredded cooked chicken breast
1 cup of your favorite brand of salsa
1/2 cup Kraft® shredded Cheddar cheese (2 oz)
Shredded lettuce, if desired
Additional salsa, if desired
Preparation
Heat oven to 350°F. Spray 12 regular-size muffin cups with cooking spray.
Using 4-inch round cookie cutter, cut 2 rounds from each tortilla. Place rounds on microwavable plate; microwave on High 15 seconds to soften. Place each in muffin cup, using bottom of small juice glass to press into each cup.
In medium bowl, toss chicken with 1 cup salsa. Place 1 teaspoon cheese in bottom of each tortilla-lined cup; add 1 heaping tablespoon chicken mixture to each. Top each with another teaspoon of cheese.
Bake 18 to 20 minutes or until cheese is melted and tortillas are crisp.
To serve, top each with lettuce, sour cream and additional salsa or your favorite taco toppings.
Recipe Tips
You can substitute cooked ground beef for the chicken.
Use the leftover tortilla scraps to make chips. Place on cookie sheet; sprinkle with salt. Bake in 350°F. oven until crisp.
Simple for You, Easy for Them.