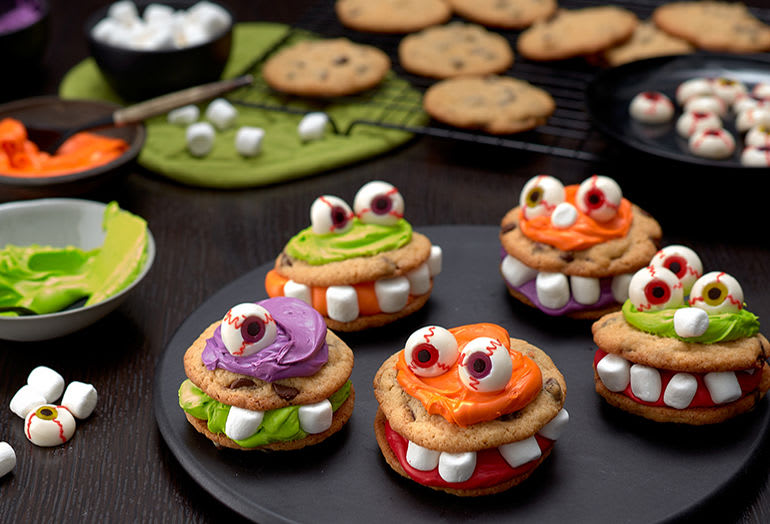 Munching Monster Cookies
Easy and fun-to-create monster cookies that kids will find irresistible! Find all the ingredients in the baking aisle.
Ingredients
1 pouch (1 lb 1.5 oz) Betty Crocker™ chocolate chip cookie mix Butter and egg called for on cookie mix pouch
2 1/2 cups Betty Crocker™ Rich & Creamy vanilla frosting (from 2 containers)
Betty Crocker™ neon gel food colors (purple, green and orange)
1 1/3 cups miniature marshmallows
6 packages (0.71 oz each) Dallies™ gummy eyeballs (36 eyeballs total)
Nutrition
1 Sandwich Cookie Calories 350  (Calories from Fat 130);  Total Fat 14g  (Saturated Fat 8g,  Trans Fat 0g); Cholesterol 25mg;  Sodium 230mg;  Total Carbohydrate 55g  (Dietary Fiber 0g,  Sugars 41g);  Protein 2g
% Daily Value: Vitamin A  4%;  Vitamin C  0%;  Calcium 0%;  Iron  2%;
Exchanges: 1 Starch, 2 1/2 Other Carbohydrate, 2 1/2 Fat
Carbohydrate Choice: 3.5
Trademarks referred to herein are the properties of their respective owners.
If you don't have candy eyeballs, use large or miniature marshmallows for eyes. Cut a large marshmallow in half crosswise, and attach a mini chocolate chip with frosting for eyes. You can make the unfrosted cookies ahead; store in airtight container, and decorate when you have time.
Preparation
Heat oven to 375°F. Make regular-size cookies as directed on pouch. Cool completely, about 15 minutes.
Meanwhile, divide frosting into 3 bowls, about 3/4 cup each. Stir 1/4 teaspoon gel food color into each bowl of frosting to make 3 different colors.
Frost bottoms of 2 cookies using same color; place about 6 mini marshmallows on frosting of one cookie for teeth. Top with second cookie, frosted side down.
Spread another color frosting on top of sandwich cookie; attach gummy eyeballs and miniature marshmallow nose. Repeat for remaining cookies.
Simple for You, Easy for Them.