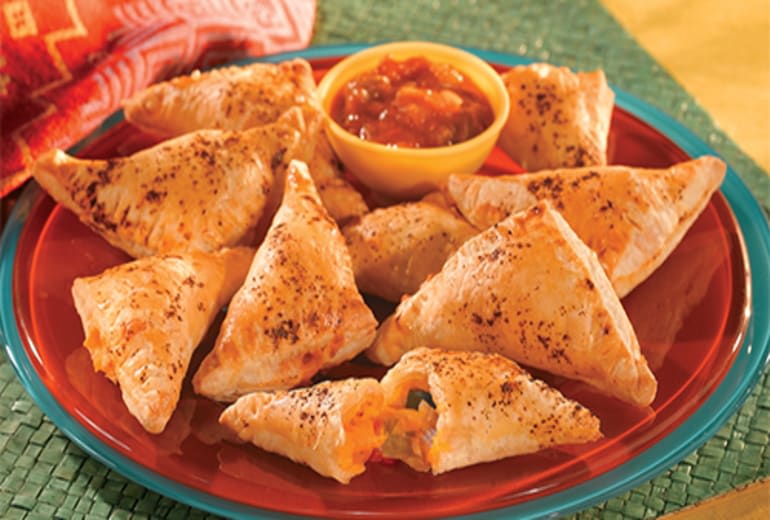 Nacho Cheese Bites
Bite-size appetizers are always perfect for hosting a watch party. Serve with additional Pace® Salsa for dipping.
Ingredients
½ of a 17.3 oz package Puff Pastry Sheets (1 Sheet), thawed
1 egg
1 tablespoon water
1 cup Kraft® Shredded Cheddar cheese (4 oz)
¼ cup Pace® Chunky Salsa
5 pitted black olives, cut into quarters (optional)
1 teaspoon chili powder
Nutrition
1 Serving: Calories nc (Calories from Fat nc); Total Fat nc (Saturated Fat nc, Trans Fat nc); Cholesterol nc; Sodium nc; Potassium nc; Total Carbohydrate nc (Dietary Fiber nc); Protein nc
% Daily Value: Vitamin A nc; Vitamin C nc; Calcium nc; Iron nc
Exchanges: nc
Carbohydrate Choices:
Preparation
Heat the oven to 400°F. Beat the egg and water in a small bowl with a fork or whisk. Stir the cheese and salsa in a small bowl.
Unfold the pastry sheet on a lightly floured surface. Roll the pastry sheet into a 15 x 12-inch rectangle. Cut into 20 (3-inch) squares.
Place about 1 tablespoon cheese mixture in the center of each pastry square. Top each with 1 olive piece, if desired.
Brush the edges of the pastry squares with the egg mixture. Fold the pastry over the filling to form triangles. Crimp the edges with a fork to seal. Place the filled pastries onto baking sheets. Brush the pastries with the egg mixture and sprinkle with the chili powder.
Bake for 15 minutes or until the pastries are golden brown. Remove the pastries from the baking sheets and let cool on wire racks for 10 minutes.
Simple for You, Easy for Them.