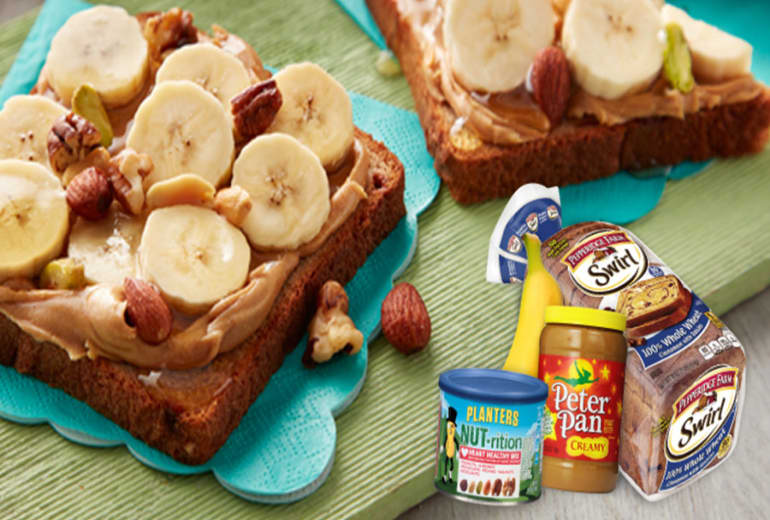 Nutty Peanut Butter Snack
This open-face peanut butter sandwich snack is full of flavor with cinnamon-raisin bread, creamy peanut butter, banana slices and a nutty crunch.
Ingredients
4 tablespoons Peter Pan® Creamy Peanut Butter
2 slices Pepperidge Farm® 100% Whole Wheat Cinnamon Swirl Bread With Raisins (from 16-oz bag)
1 ripe medium banana, sliced
2 tablespoons Planters® NUT-rition Heart Healthy Mix
2 teaspoons honey
Nutrition
1 Serving: Calories 460 (Calories from Fat 240); Total Fat 26g (Saturated Fat 4g, Trans Fat 0g); Cholesterol 0mg; Sodium 260mg; Total Carbohydrate 40g (Dietary Fiber 7g, Sugars 21g); Protein 14g
% Daily Value: Vitamin A 0%; Vitamin C 8%; Calcium 4%; Iron 10%
Exchanges: 1 1/2 Starch, 1/2 Fruit, 1/2 Other Carbohydrate, 1 1/2 High-Fat Meat, 2 1/2 Fat
Carbohydrate Choices: 2 1/2
Preparation
Spread 2 tablespoons peanut butter on each slice of bread.
Top each slice of bread with banana slices and nuts; drizzle with honey, and serve.
Recipe Tips
Try toasting your bread before topping for a warm toasty crunch.
Honey is a nice addition, but this snack is also delicious without.
Simple for You, Easy for Them.