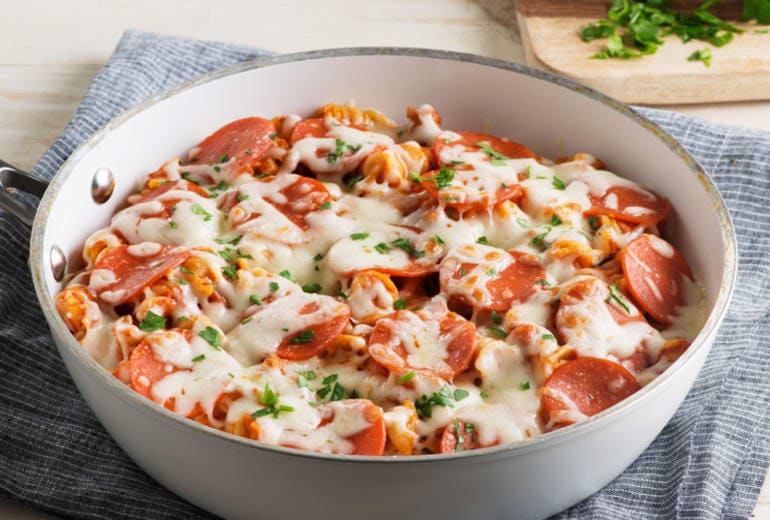 One Pan Pizza Pasta
No need to order pizza tonight! In just 30 minutes you can make a cheesy dish topped with pepperoni that the whole family will love.
Ingredients
1 tablespoon olive oil
1 small onion, chopped
2 garlic cloves, minced
8 oz Italian sausage links
1 can (15 oz) tomato sauce
1 teaspoon dried basil leaves
8 oz Ronzoni® Rotini
1 1/2 cups water
1 cup shredded mozzarella cheese
4 oz sliced pepperoni
1 small bunch Italian parsley, chopped (optional)
salt and ground black pepper, to taste
Preparation
Heat olive oil over medium heat in a large oven-safe pan. Add onion and sauté 2 to 3 minutes or until translucent.
Remove Italian sausage from casing and cook until browned, about 4 to 5 minutes. When the sausage is almost done, add the garlic, and cook for another 1 to 2 minutes, stirring frequently so the garlic does not burn. Drain excess fat.
Add tomato sauce, pasta, dried basil and 1 ½ cups of water to the sausage mixture. Bring to a boil, cover tightly and reduce heat to a simmer. Cook about 12 minutes or until the pasta is cooked through. Season with salt and ground pepper, to taste.
Turn off heat and top with mozzarella and pepperoni. Cover again for 2 to 3 minutes, or until mozzarella is melted. For an extra crispy topping, broil for 2 to 3 minutes in the oven, but only if your pan is oven-safe.
Garnish with Italian parsley, if desired.
Simple for You, Easy for Them.