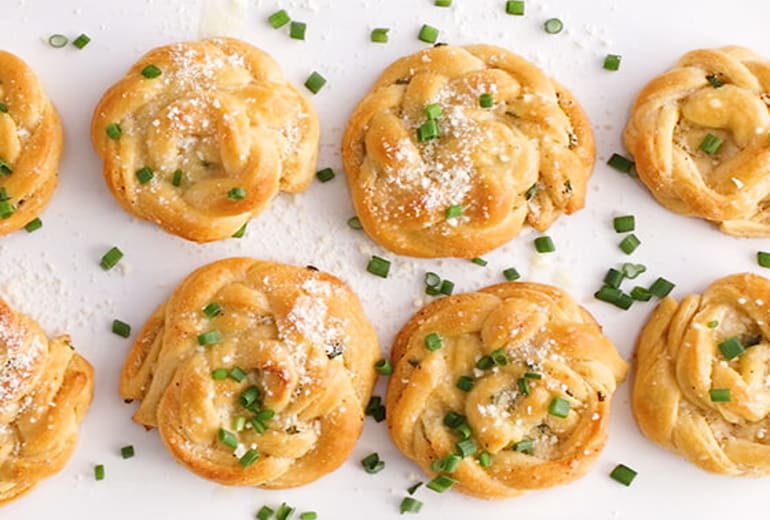 Parmesan-Herb Braided Crescent Rounds
These impressive, braided crescent rounds are surprisingly very easy to make and are perfect for a special side. Parmesan cheese and fresh chives are packed inside the crescent dough before baking, making these a new favorite way to serve crescents.
Ingredients
3 tablespoons grated Parmesan cheese
1 tablespoon chopped fresh chives
⅛ teaspoon black pepper
1 can (8 oz) Pillsbury™ refrigerated crescent dough sheet or 1 can (8 oz) Pillsbury™ refrigerated crescent rolls
2 tablespoons butter, melted
Nutrition
1 Serving: Calories 120 (Calories from Fat 60); Total Fat 7g; (Saturated Fat 3 1/2g, Trans Fat 0g); Cholesterol 10mg; Sodium 280mg; Potassium 0mg; Total Carbohydrate 14g; (Dietary Fiber 0g); Sugars 2g; Protein 2g
% Daily Value: Vitamin A 2%; Vitamin C 0%; Calcium 4%; Iron 4%
Exchanges: 1/2 Starch; 0 Fruit; 1/2 Other Carbohydrate; 0 Skim Milk; 0 Low-Fat Milk; 0 Milk; 0 Vegetable; 0 Very Lean Meat; 0 Lean Meat; 0 High-Fat Meat; 1 1/2 Fat
*Percent Daily Values are based on a 2,000 calorie diet.
Preparation
Heat oven to 375°F. Line large cookie sheet with cooking parchment paper. In small bowl, mix 2 tablespoons of the Parmesan cheese, the chives and pepper.
Unroll dough onto work surface. If using crescent rolls, firmly press perforations to seal. Brush dough with 1 tablespoon of the melted butter. Sprinkle Parmesan mixture on top of dough, all the way to edges. Fold long sides of dough in half lengthwise; press to make 13x5-inch dough rectangle.
Using pizza cutter, cut dough rectangle in half crosswise to get two 6 1/2x5-inch rectangles; cut each half lengthwise into 12 equal strips to make 24 total. Pinch together ends of three strips, and braid the dough strips. Pinch ends together, spiraling into round shape, and pinching ends under. Place on cookie sheet; repeat for remaining dough strips.
Bake 10 to 13 minutes or until golden brown and baked through. Brush remaining 1 tablespoon melted butter on top of baked rounds; sprinkle with remaining 1 tablespoon Parmesan cheese and, if desired, additional chopped fresh chives. Serve warm.
Recipe Tips
For extra flavor, stir ¼ teaspoon garlic powder into remaining 1 tablespoon melted butter before brushing on top of baked crescent rounds.
Don't have a pizza cutter? Use a sharp knife and pull straight through dough without lifting up.
Simple for You, Easy for Them.